What is Consular Processing?
How to apply for a visa or green card from outside the U.S.
Consular processing simply means you are applying for a U.S. green card or visa from abroad (i.e. being processed at a Consulate).
Depending on whether you are currently in the United States or are still in your home country, your green card application process will differ. If you are applying from outside the U.S., your application (for CR-1 or IR-1) will be processed by the U.S. Embassy or consulate in your region and go through consular processing.
If, on the other hand, you are applying for your green card while you are in the U.S., you will generally go through the Adjustment of Status (AOS) process while remaining in the U.S. For Consular Processing, you will have to wait in your home country until your U.S. Spouse Visa is issued.
The general criteria for your marriage-based green card is the same for either consular processing or Adjustment of Status. The key differences are each process has its own processing times, application forms, document requirements, and filing fees. It is important to determine which process is best for your specific circumstances, timelines and goals.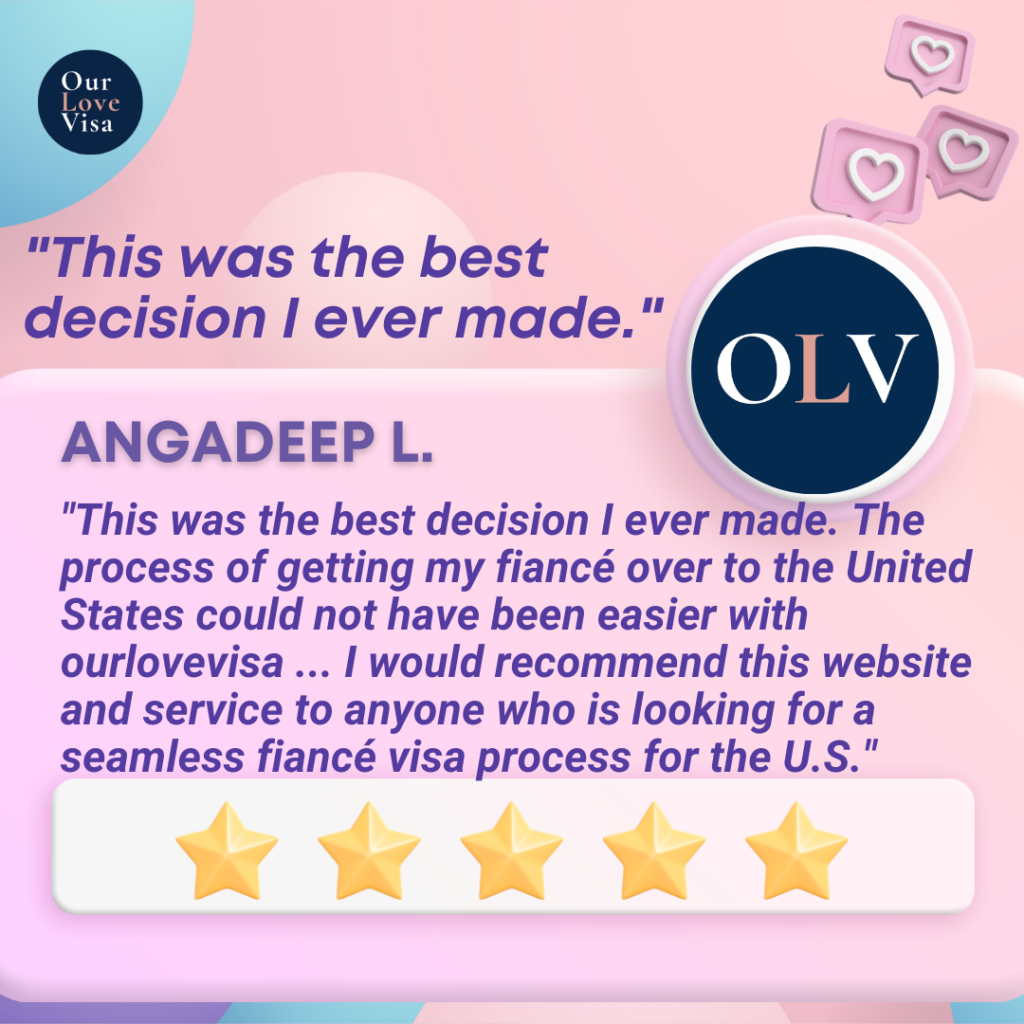 The Our Love Visa Experience
Our Love Visa has a simple mission. We believe it should not be difficult or expensive to bring couples together. OLV has helped thousands of couples navigate the immigration process, and it would be a privilege to help you too. Join the OLV Community today!
Who Does Consular Processing Apply to?
Normally, foreign nationals applying for green cards must do so via consular procedures.
The immigration procedure for the following sorts of visas is called consular processing:
CR1/IR1 spouse; CR2/IR2 kid if the sponsor is a citizen of the United States
F2A category if the sponsor is a lawful permanent resident (F21 spouse; F22 kid) (aka green card holder)
If you choose consular processing, you must wait while your green card application is handled in your native country. While it may take many months, it will usually go much faster than AOS, and you may keep doing your normal job.
Only those already citizens of the United States may opt for AOS over consular processing. There is no set procedure for filing an AOS application, and few U.S. visas enable you to enter the country to modify your status. However, some green card candidates travel to the United States to do so instead of utilizing consular processing. Only those who have applied for the appropriate petition (such as Form I-130 for marriage-based green cards) and already meet the requirements for a green card (via marriage, job, or another method) should be granted consular processing. You may start the consular procedure if your petition is authorized and you are eligible for a spouse visa. Check your priority date to determine when you may apply since unless you are married to an American citizen, you can wait longer for a visa number.
What is CR1 Versus IR1?
You will either be given a CR-1 visa or an IR-1 visa if you submit a consular processing application for a marriage green card.
When the couple has been married for less than two years when the green card is authorized, a CR1 visa is given. The term "conditional" refers to the fact that the green card is only good for two years before the foreign spouse may apply to have the conditions removed and earn a 10-year green card.
When the application for a green card is accepted after the couple has been wed for at least two years, an IR-1 visa is awarded. As a result, the foreign spouse will not need to make an application to have the restrictions lifted for ten years after receiving the green card.
What are the Processing times for Consular Processing?
You can expect the process to take 9–13 months if you are the spouse of a U.S. citizen or 18.5–32.5 months if you are the spouse of a green card holder, depending on the specifics of your case.
Want to expedite the spouse visa Application process? Our Love Visa has streamlined all the necessary government forms and requirements into easy questions that you can complete online, usually in less than an hour, and provides free tools that can help plan and track your application progress. Find out more and start your U.S. immigration process today.
Immigration support is available at an affordable price. The best part, you can use our tools and features for free, whether or not you choose to use the paid form function or work with someone from our independent attorney network. Our Dashboard has a personalized planning tool and relationship timeline to help you organize and strengthen your immigration application. We also have a tracking tool that securely pulls your immigration case status updates from the USCIS website.
Consular Processing Application Status Check
On the USCIS website, enter your case number to see whether there have been any revisions to your green card application. This number may be found on any correspondence or receipts that you have received from USCIS
You may monitor the progress of your case on the Consular Electronic Application Center website after you have filed your green card application to a U.S. embassy or consulate. You will be able to monitor the status of your application and even the timing of the printing of your visa.
What Happens After My Application is Approved?
Congratulations! Now that you have a U.S. green card, you can live and work anywhere in the country. After a lot of effort, it is a wonderful chance and a tremendous accomplishment.
If you obtained your green card via marriage but are entering the country after being married for less than two years, you will be granted a conditional green card for two years. After two years, you may apply for a non-conditional green card if you are still married. This application may be started 90 days before the two-year mark after your arrival. Remember to apply since failing to do so will result in the termination of your green card and the possibility of removal procedures.
If all goes according to plan, you can apply for citizenship after holding a green card for 5 years (or 3 years if you are the spouse of a citizen). You must continue to pay your taxes, maintain a clean criminal record, and refrain from taking long trips abroad.
Have you lately met the requirements for American citizenship? Our Love Visa makes it simple to finish your citizenship application and steer clear of typical issues.