Frequently Asked Questions for the Form I-130
What is the difference between Form I-130 and Form I-485?

Let us say you want to prove that you are connected to someone eligible for
permanent residency, and you are a U.S. citizen or legal permanent resident. In that
case, you must submit Form I-130 as the first step in assisting them in applying for a
green card.

If your relative is already in the country, they may be eligible to apply for permanent
residence concurrently using Form I-485 (Application for Adjustment of Status). You
may be able to submit these forms simultaneously in certain circumstances.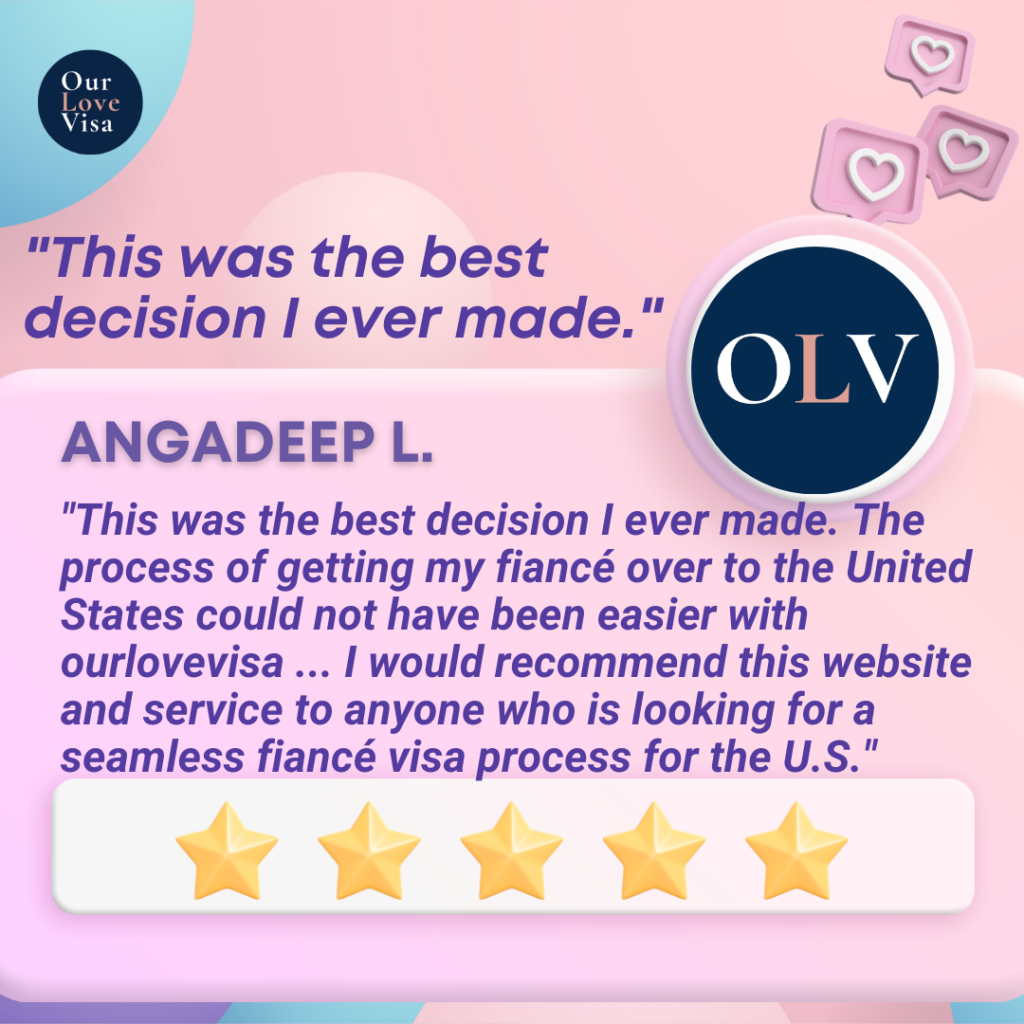 The Our Love Visa Experience
Our Love Visa has a simple mission. We believe it should not be difficult or expensive to bring couples together. OLV has helped thousands of couples navigate the immigration process, and it would be a privilege to help you too. Join the OLV Community today!
How do I file Form I-130?
Form I-130 may be submitted online or by mail. You must register for a USCIS online
account to file electronically. Additionally, this will simplify seeing all case

communication, adding supporting documentation, checking your progress, and getting

case notifications.
You may still submit Form I-130 online even if your relative is already
present in the nation and plans to send their Form I-485.
Form I-130 may also be sent in via mail. You must indicate which address to mail your
petition to if you reside in the United States. Depending on your state of residence and
whether or not your relative is also submitting Form I-485, USCIS will ask you to mail
your application to one of three lockboxes: Dallas, Chicago, or Phoenix. It will then be
processed at one of the five service centers

run by USCIS.

You may file online or at the USCIS Dallas Lockbox if you do not reside in the US. If
there are unique circumstances; you might ask to file in the American embassy is
most convenient.

If the form/application you file is incomplete and signed, USCIS may reject it.
What are the fees for the I-130?

Currently, an I-130 petition costs $535, which may be paid with a check or credit card
using Form G-1450.
Can Form I-130 processing be expedited?

I-130 petitions are not eligible for Premium Processing, but you may ask USCIS to
accelerate the processing of Form I-130 by sending a special request. USCIS will typically only consider the request if it involves urgent humanitarian needs or further
U.S. government interests.
What documents do I need to submit with Form I-130?

● A birth certificate, naturalization or citizenship certificate, passport, or green
card to prove U.S. citizenship or permanent residency.
● Evidence of a familial connection, such as a marriage license or birth certificate.
● You must provide proof of your genuine relationship to the relative you are
petitioning for when submitting Form I-130.
● You must offer more proof of your relationship and demonstrate that you
are in a genuine marriage if you are petitioning for your spouse. You may do this
by providing evidence of assets and liabilities together, for example, that you
jointly own or rent property, mortgages, bills, joint bank account statements,
and testimonials from others who can attest to the authenticity of your
relationship, among other things.
● If relevant, documentation of a legal name change.
What happens after USCIS approves my I-130?

Your relative may submit an application for a green card. They could be eligible to
apply immediately if they are an immediate relative, such as a parent, spouse, or
unmarried child under age 21. If not, they may have to wait for an immigrant visa
number. If they can apply right away and are already in the country, they may be able
to change their status by submitting Form I-485. (This form can also be submitted
concurrently with Form I-130 in qualifying situations i.e., if the visa number is
current or not applicable based on your relationship category).
Who has to go for a biometrics appointment?

Any applicant, sponsor, or petitioner may be required to provide biometric data by
USCIS (fingerprinting, etc.). After filing your I-130, USCIS will send you Form I-797C,
informing you whether your petition has been accepted, refused, or requires more
information. If your I-130 has been accepted, USCIS will also send you a notice of
appointment with a time, date, and place to give biometrics data at your nearby
application support center.
What to do if my Form I-130 is rejected? What to do if my Form I-130 is denied?
There is a difference between an application being "rejected" vs. being "denied" by
USCIS. A rejection means your application was not accepted for processing. Either you
did not submit a complete application, missing pages of the Form, missing signatures, or filing fees.

A denial on the other hand is after USCIS has processed your application and does not
believe it to have merit. Numerous factors might lead to an application being denied.
USCIS will send you Form I-797 ("Notice of Action") which typically should inform you
of the reasons for the denial. Before USCIS denies your application, they typically give you
an opportunity, as a "Request for Evidence", to supplement your application with
missing documents or additional evidence.

The most common reasons an I-130 petition is denied are: insufficient documentation
to establish your relationship or basis for applying, not being able to prove you have
a genuine relationship, or admissibility issues for your foreign national partner.
Within 30 days of receiving the notice, if you feel your I-130 was wrongfully denied,
you may be able to appeal to the Administrative Appeals Office (AAO), which is a
different department.
How can I check the case status of my I-130 application?

Your 13-digit case receipt number, which may be found on any notification letter
provided by USCIS, can be used to track the status of your case online.
Our Love Visa has a free tool that can help you easily track your case status. Our tool
pulls this information from USCIS. We will soon integrate automated status updates
among other tools that make your immigration process easier and much more
affordable.
Will I need to go for an interview?

Typically, when someone files an I-130 petition, USCIS requires both the sponsor and
the relative applying for a green card to an interview. USCIS will verify the information
you have supplied during the interview.

USCIS may sometimes approve your I-130 without a requirement for an interview. You
may not require an interview if you are a United States citizen and submit on behalf of
your parents or your unmarried children under the age of 21 who are currently residing
in the country and have submitted Form I-485. If you are a permanent resident and
petitioning for any of your children under the age of fourteen, you may not be required
to have an interview.
What if my I-130 petition is missing documents or I am unable to obtain them for the
application?
You must provide a letter from the appropriate authorities confirming that one of the
main papers necessary, such as a birth certificate, do not exist and cannot be
obtained.

USCIS may send you a Request for Evidence (RFE) if you file your petition but are
missing any supporting papers in your I-130.

However, if any critical supporting documents are still lacking, USCIS could ultimately
decide to reject an I-130 petition.
Will my relative be allowed to work after filing Form I-130?

The I-130 is a petition for a family member's green card. Alone, it does not provide
employment authorization. It is the first step toward obtaining permanent residence
and the ability to work in the United States. Later on in the procedure, your relative
could be able to file Form I-765 and apply for an Employment Authorization Document
(EAD).
Can you file I-130 and I-485 at the same time? (called Concurrent Filing)

If your relative is already in the U.S., you may be able to file your I-130 and I-485
adjustment of status applications together.

You will need to make sure that an immigrant visa number is available for your relative
before submitting simultaneously if they are not an immediate relative (your spouse,
child, or parent). Immediate Relatives of U.S. Citizens do not have a quota so generally
(unless your situation has complications) you should be able to file simultaneously.
If your immediate relative is not in the U.S. and you are filing for consular processing,
you cannot submit these Forms together. The I-485 Adjustment of Status process is
only for family members in the United States and eligible to adjust their status to
green card.
Can my family member travel after filing I-130?

The relative could be eligible to enter the country on a tourist visa or visa waiver while
waiting for the I-130 petition to be processed. However, they must inform immigration
upon entry that they will depart before the end of the authorized validity period. They can be denied entry if they cannot demonstrate this to the CBP officer.
If my family member or I have a criminal record, can we still file Form I-130?
The U.S. Immigration service will do security and background checks on all applicants.
In most cases, if the sponsoring family member has a criminal history, they will still be
allowed to sponsor a family member. If the foreign national family member has a
criminal history, they could still be eligible for a green card. This depends
heavily on the nature of the crime It is crucial to be truthful with USCIS regarding your
criminal past and any run-ins you may have had with the law (except for minor traffic
violations). A police record may complicate matters, although it does not always result
in denying your green card application.
Where should my I-130 form be sent?

Depending on where you live and whether you are filing an I-130 alone (officially
referred to as a "standalone" I-130) or an I-130 along with an I-485 green card
application or "Application to Register Permanent Residence or Adjust Status" at the
same time (officially referred to as a "concurrent filing"), determines where you must
send your I-130 petition. (For the correct postal address to deliver your I-130 petition,
see this USCIS chart.)