How do I Apply for a Spouse Visa with Consular Processing?
The Our Love Visa Experience
Our Love Visa has a simple mission. We believe it should not be difficult or expensive to bring couples together. OLV has helped thousands of couples navigate the immigration process, and it would be a privilege to help you too. Join the OLV Community today!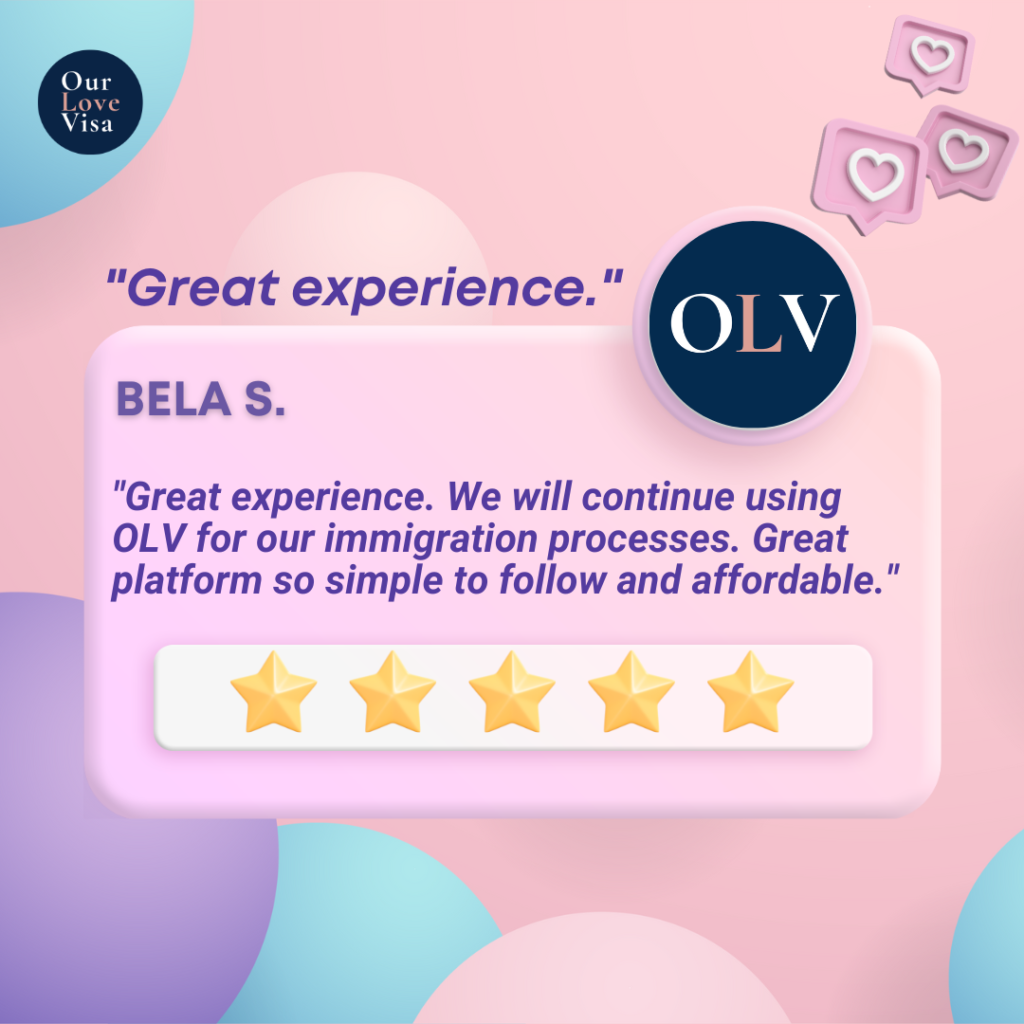 Consular processing involves many steps. Therefore, it is important to understand what to plan. Here is what to anticipate:
Step 1: Determine your eligibility for a green card.
Step 2: Have your sponsor submit to U.S. Citizenship and Immigration Services the proper petition for your green card category, such as the I-130 form (USCIS).
Step 3: Hold off until USCIS approves your petition. This may take a few months to more than a year.
Step 4: Verify that you can get a green card when your petition is accepted. Some people married to U.S. citizens may acquire visas quickly, while others trying to earn green cards may have to wait years. For further details, see the visa bulletin.
Step 5: Once a visa is available, the National Visa Center (NVC) will receive your petition from USCIS and process it. The NVC, a division of the Department of State, handles green card applications for citizens of other countries.
Step 6: The NVC will inform you when it is time to submit your application's supporting materials and pay for them. To provide all the necessary information, you will complete and submit Form DS-260.
Step 7: Your local U.S. embassy or consulate will receive your case file and supporting evidence and get in touch with you to schedule an in-person interview.
Step 8: You must get a medical exam before the interview with a physician authorized by USCIS. Only authorized doctors may be used, and costs vary depending on where you live. The website of the American embassy or consulate has information.
Step 9: Bring your passport and all original paperwork to the interview. A consular official will put you under oath and inquire about your application when you arrive. Your passport could be taken, but you will receive it back later.
Step 10: Whether or not the consulate officer will approve your application. Either you hear it straight away or at a later time. Decisions are usually reached within a week unless more research is necessary.
Step 11: If your application is accepted, you will get your paperwork in a sealed envelope along with a visa permitting you to visit the U.S. This envelope must only be opened by a U.S. officer at an authorized port of entry, so please do not open it.
Step 12: From the date of your medical examination, your travel visa will be valid for six months. Upon arrival into the country, you will be processed by a U.S. border official, who will open the sealed envelope and officially admit you.
Step 13: Your visa is now good for up to a year of travel into and out of the U.S. Your green card will be sent to your U.S. address during that period by USCIS.