What documents do I need for a Marriage Green Card Application?
Start gathering the required documents in advance when applying for a marriage-based green card
The Our Love Visa Experience
Our Love Visa has a simple mission. We believe it should not be difficult or expensive to bring couples together. OLV has helped thousands of couples navigate the immigration process, and it would be a privilege to help you too. Join the OLV Community today!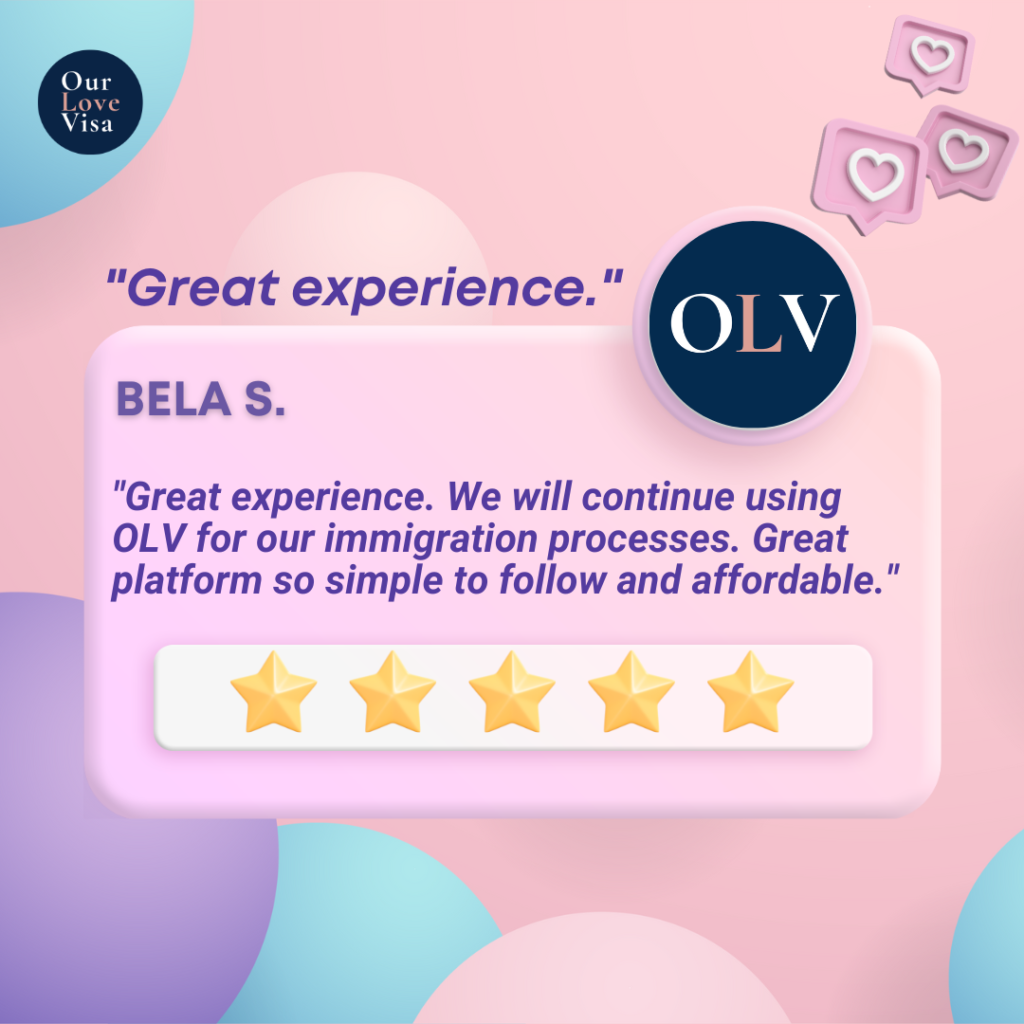 Birth certificate
Both spouses must provide a certified copy of the long-form version of their birth certificates with their green card application when applying for a marriage green card. Your full name, birth date, the names of both of your parents and the official seal of the issuing information must all be included on the birth certificate. It is advisable to do this early in the green card application process since getting a certified copy of your birth certificate from the relevant government agency could take some time. You have choices if you cannot get a copy of your birth certificate. Here is further information about alternate documents.
Certified Translations of all documents that are not in English
They must provide a complete and certified translation if any supporting papers submitted by either spouse are not wholly written in English. That holds for all needed forms, including the most often translated birth certificate. Early in the application process, comparing several translation services and determining which of your papers need a translation is a good idea.
Evidence of your Genuine relationship
Proving the legitimacy of your relationship is one of the most important elements in the marriage green card application process. You need more evidence that you want to start a family together than just a marriage license. Consequently, you must demonstrate that you and your spouse want to be together after marriage and have a future together. Learn more about the different types of evidence needed to demonstrate the validity of your marriage and the strongest types of evidence. You should start gathering papers early in the application process since some of these proofs will take time to compile.
Address and employment history
The U.S. government will want your address and job history for the last five years when you apply for a green card (if you are applying from outside the United States, you must supply the same information for the previous ten years, at least). You may not be able to recall the locations where you lived and worked throughout that time, the addresses of your previous employment, or the dates of your start and termination. Try to gather these details immediately so you are not caught off guard when filling out your applications. Learn more with our address and work history guides, which also provide advice on recalling old jobs and addresses.
Our Love Visa has streamlined all the necessary government forms and requirements into easy questions you can complete online, usually in less than an hour, and provides free tools that can help plan and track your application progress. Find out more and start your U.S. immigration process today.
Immigration support is available at an affordable price. The best part, you can use our tools and features for free, whether or not you choose to use the paid form function or work with someone from our independent attorney network. Our Dashboard has a personalized planning tool and relationship timeline to help you organize and strengthen your immigration application. We also have a tracking tool that securely pulls your immigration case status updates from the USCIS website.