K1 Visa Processing Time: Understanding The K1 Visa Timeline
Many factors will impact the overall K1 Visa processing time, so there's no one definitive answer, but there is a K1 Visa timeline that will give you an idea of how long you can expect the process to take.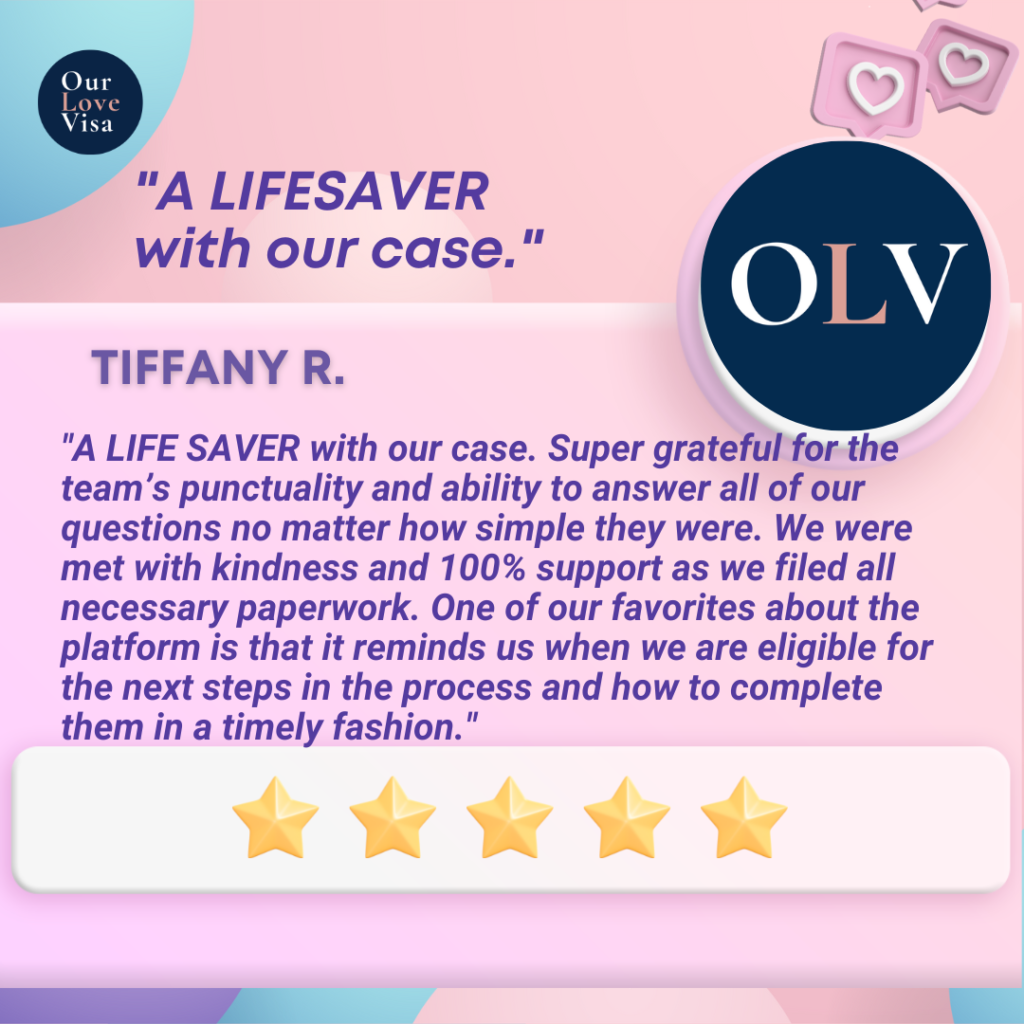 The Our Love Visa Experience
Our Love Visa has a simple mission. We believe it should not be difficult or expensive to bring couples together. OLV has helped thousands of couples navigate the immigration process, and it would be a privilege to help you too. Join the OLV Community today!
Keep reading to learn about the processing that occurs in each stage of the K1 Visa application process and roughly how long each stage takes.
For just $199, Our Love Visa can help you assemble all required K1 Visa forms and documents and help you submit them to the government. Get started today!
What is the K1 Visa Processing Time?
The Short Answer:
The entire K1 Visa processing time is normally about 10-15 months. However, with the recent backlogs caused by the COVID-19 pandemic, the overall processing time is closer to 15-20 months. This is from when you file the initial Form I-129F to when the foreign fiancé(e) gets their visa.
Let's look at the K1 Visa processing times for the stages of the journey.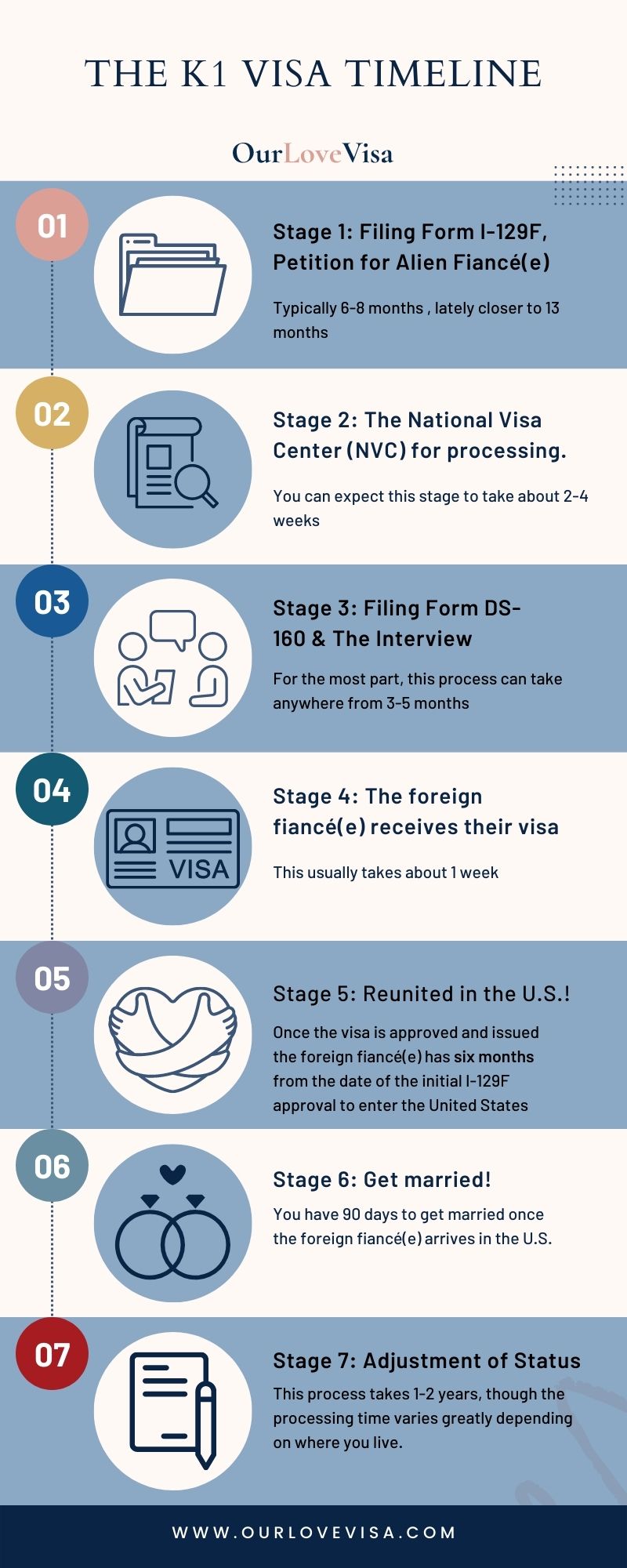 The K1 Visa Timeline
Stage 1: Filing Form I-129F, Petition for Alien Fiancé(e)
After the petition and supporting documentation are submitted, USCIS will usually send a receipt notice within 30 days to inform you that it has been received. If USCIS needs further information, they may issue a Request for Evidence (RFE).
If your application is complete and no supporting documents are missing, it normally takes USCIS 6-8 months to approve it. However, there has been a backlog since the pandemic, and the current wait time is closer to 13 months.
The USCIS processing time website will be the best place to check for the most up-to-date I-129F processing time.

Stage 2: Your case moves to the National Visa Center (NVC) for processing.
This is where the NVC conducts a background check on the foreign fiancé(e), and then they send the application to the U.S. consulate closest to where they live. You can expect this stage to take about 2-4 weeks.

Stage 3: Filing Form DS-160 & The Interview
The foreign fiancé(e)'s visa interview appointment is scheduled at this stage. Before attending the interview, they must complete Form DS-160, obtain police clearances, and get a medical exam. These and other personal documents and proof of your relationship must be brought to the visa interview. For the most part, this process can take anywhere from 3-5 months.

Stage 4: The foreign fiancé(e) receives their visa
This usually takes about 1 week unless the application is sent for additional administrative processing, which can add weeks or months to the K1 visa timeline.

Stage 5: Reunited in the United States!
You've been waiting a long time for this permission to celebrate!
Once the visa is approved and issued the foreign fiancé(e) has six months from the date of the initial I-129F approval to enter the United States.

Stage 6: Get married!
You have 90 days to get married once the foreign fiancé(e) arrives in the U.S.

Stage 7: Adjustment of Status
The foreign fiancé(e) can apply for a Green Card by filing form I-485, Application to Register Permanent Residence, or Adjust Status. For the most part, this process takes 1-2 years, though the processing time varies greatly depending on where you live.

K1 Visa Processing Time Potential Delays & Solutions
Your K1 Visa timeline can be impacted by several factors; some will be within your control and some will not. Let's talk about what you can do to minimize potential delays.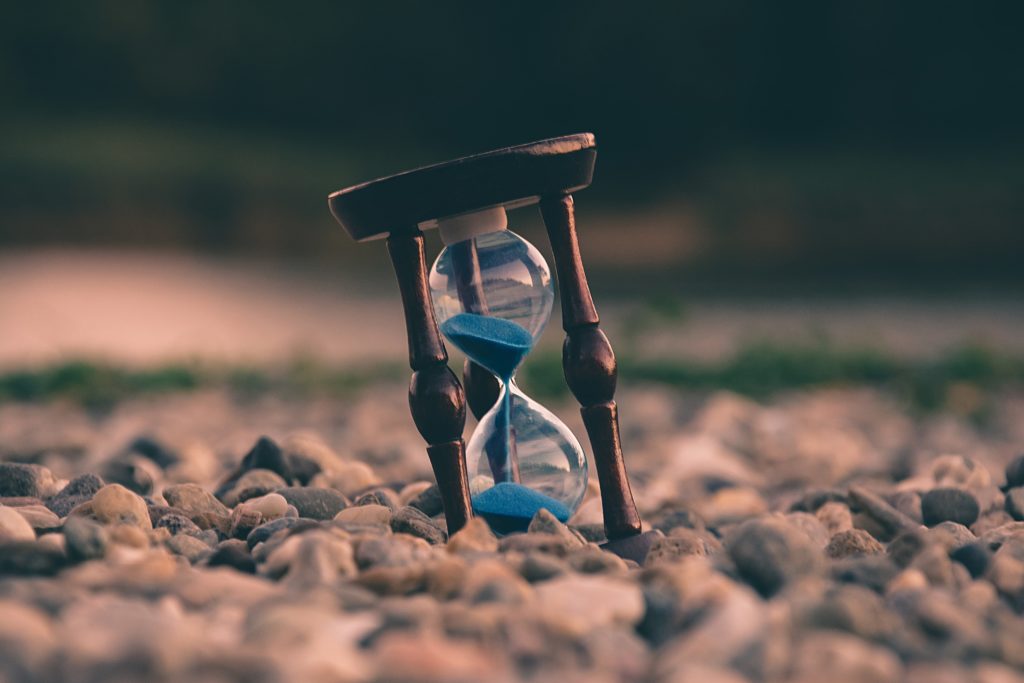 Preparation
A well-prepared case can help you save time. Make sure you follow all of the instructions and provide enough evidence because USCIS may issue a Request for Evidence or send your application to the consulate for administrative processing if you don't. This extends the overall K1 Visa processing time.
Prepare for any potential problems that may arise in your background. For example, if you have a criminal record or immigration violations. Make sure to address any concerns that arise. 
You must also persuade USCIS and the consulate that your relationship is genuine. When it comes to relationships, couples who have significant differences are frequently examined more closely. Large differences in age, education level, and culture are examples of significant differences. Prepare a strong petition that can withstand careful inspection.
USCIS Workload
Unfortunately, this is a factor that is out of your control. Especially after the pandemic, many USCIS service centers and offices are backlogged and understaffed, so there have been delays. Prepare your case well and have your documents well organized to avoid any additional delays such as Requests for Evidence.
Our Love Visa can help you organize your documents and prepare the best case. Create a free account to start using our free planning tools today!
Country of Origin
The country where the foreign fiancé(e) is from may influence the visa processing time. Some consulates have longer waiting times for appointment scheduling and visa processing.
Some countries have several consulates, some of which are faster than others. You may want to check the K1 visa timelines for multiple consulates before deciding where to interview. This is especially true for countries that are thought to have higher rates of visa fraud. Again, a well-prepared case will make the process much smoother.
Catastrophic Events
Natural disasters, global pandemics, war, civil unrest, and other such events can halt visa processing altogether. We saw this happen during the COVID-19 pandemic. In situations like these, you may not have many options. Stay well informed so that you know what options are available.
Some elements that could add to your K1 Visa processing time will be beyond your control. But you should be able to avoid delays with a well-prepared case that follows USCIS directions and anticipates any potential problems.
Our Love Visa can guide you in preparing the best case possible. Create a free account and start your K1 Visa journey today.