Information about Form I-130 a.k.a. "Petition for Alien Relative"
What are I-130 processing times? What are the costs for
Form I-130? What are the requirements for Form I-130?
The Our Love Visa Experience
Our Love Visa has a simple mission. We believe it should not be difficult or expensive to bring couples together. OLV has helped thousands of couples navigate the immigration process, and it would be a privilege to help you too. Join the OLV Community today!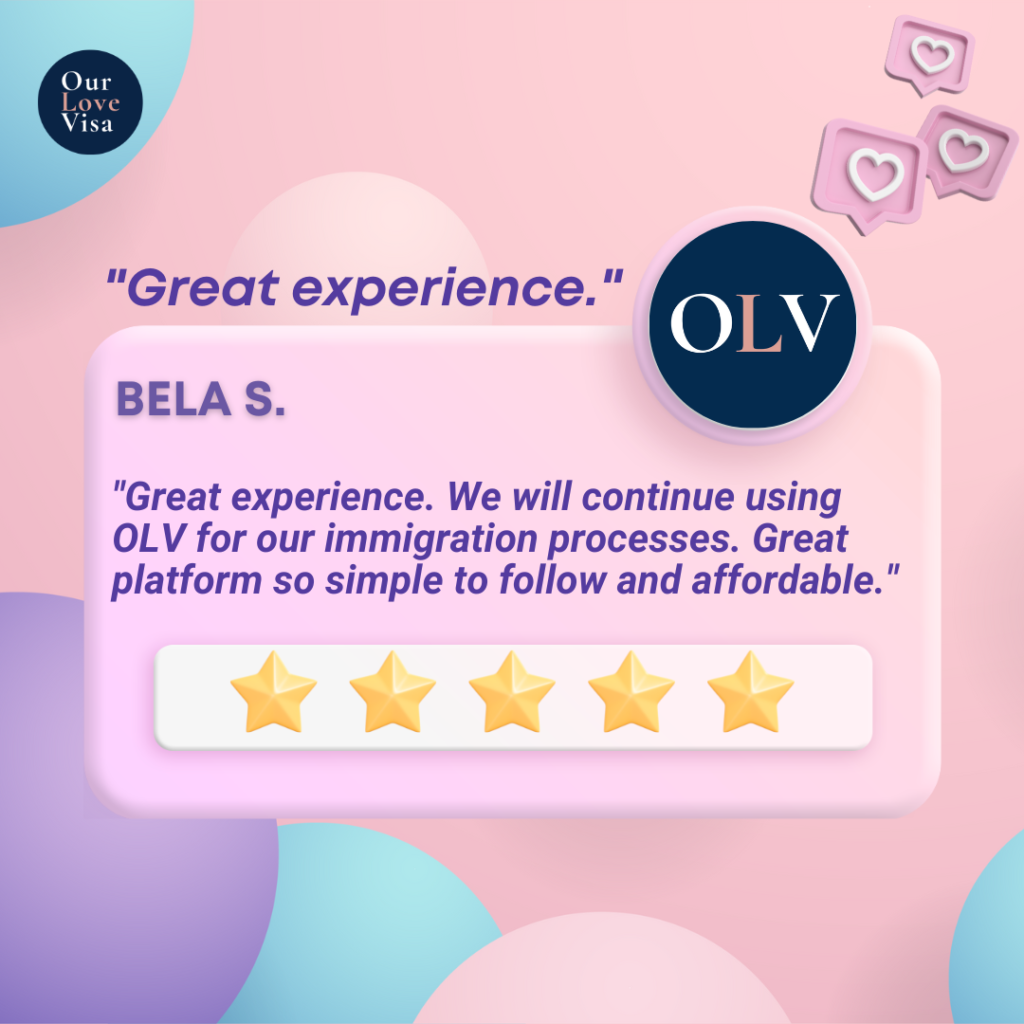 What is USCIS Form I-130?
The first step in the process to receive a family-based green card is filing an I-130
petition to the U.S. Department of Homeland Security's US Citizenship and Immigration
Services (USCIS). Uncertain about your eligibility for a family-based green card? Check
your eligibility first.

Form I-130 is used to establish a legitimate familial tie between a U.S. citizen or lawful
permanent resident (green card holder) and a person applying for a green card.
The I-130 petition, filed for obtaining a marriage green card or marriage visa, serves to
demonstrate that your marriage is genuine (based on a marriage certificate and other
supporting documents you provide). As the first step in the marriage visa process,
USCIS reviews your I-130 application to establish that your marriage is "genuine" — i.e,
not fake and only for the purpose of getting a green card. You must provide
documentation (such as joint bank account statements, joint insurance paperwork, and
images of the two of you) during this step in the marriage-based green card application
process.

By submitting an I-130 petition, you also secure your position in line (or "priority date")
for a green card. Your position in line is decided by your "priority date," which is
essentially the day that USCIS received your I-130 petition unless you are the spouse,
parent, or unmarried child (under 21) of a U.S. citizen, in which case there is no "line" or
wait for an immigrant visa number. The wait for a green card is because of quotas set
by law for how many immigrant visas will be issued in a given period. For additional
information on the current waiting periods, for green card categories that are subject to
the wait, see the Visa Bulletin.
Our Love Visa has streamlined all the necessary government forms and requirements into
easy questions that you can complete online, usually in less than an hour, and provides free
tools that can help plan and track your application progress. Find out more and start your U.S. immigration process today.

Immigration support is available at an affordable price. The best part, you can use our tools
and features for free, whether or not you choose to use the paid form function or work with
someone from our independent attorney network. Our Dashboard has a personalized planning tool and relationship timeline to help you organize and strengthen your immigration application. We also have a tracking tool that securely pulls your immigration case status updates from the USCIS website.

Our Love Visa exists because we truly believe it should not be expensive or complicated to
bring our loved ones home.
Processing Times for Form I-130
What are current processing times for Form I-130?

Your type of family relationship and where you are located will affect how quickly your
I-130 petition is processed. With the immigration backlogs, current Form I-130
processing times for immediate relatives (i.e. spouse, unmarried child or parent), of a
U.S. citizen, who are living outside the U.S. is between 9 and 13 months. The processing
time for immediate relatives of U.S. Citizens applying from within the U.S. (i.e.
adjustment of status) is currently 12–27 months.

Processing times for Form I-130 presently range from 18.5 to 32.5 months for
immediate relatives (limited to spouse and unmarried child) of a U.S. green card holder
who lives outside of the U.S.. Currently, the processing time for immediate relatives of
permanent residents within the U.S. is between 12 and 27 months.

It is best to begin working on your I-130 application as soon as possible. With
Our Love Visa, all of the above-mentioned mandatory forms are converted into brief
questions you may complete in under one hour.
Costs for filing Form I-130
What is the cost of the I-130?

The I-130 petition filing fee is $535.
Not sure what to budget for? The actual government costs for your application may be
calculated with the USCIS fee calculator.
Who can file Form I-130?

U.S. citizens may submit an I-130 petition for their spouse, children, parents, and
siblings. Those with green cards may file I-130 applications for their spouse and
unmarried children.

The "petitioner" or "sponsor" of the I-130 petition is a U.S. citizen or holder of a green
card. The term "beneficiary" refers to the applicant for a green card.
Who cannot file Form I-130?

Several eligibility constraints and familial relationships are not eligible for filing an I-130
petition. You cannot submit an I-130 to sponsor any of the relatives listed below:
● A spouse: if both of you were not physically present at the legal marriage
ceremony.
● A spouse: if you obtained your green card from a previous marriage to a U.S.
citizen or green card holder unless you have become a U.S. citizen (through the
process called naturalization) or have held your green card for at least five
years.
● A spouse: if you get married while your foreign national spouse was involved in
any immigration court proceedings (a hearing in an immigration court for
someone being deported or "removed"). There may be an exemption to this rule
for those who qualify.
● A spouse or any relative, who USCIS determined to have
misrepresented/committed fraud on an application for an immigration benefit
or enter in a fraudulent marriage (got married only for immigration reasons)
● A parent-in-law, a grandchild, grandparent, nephew or niece, aunt or uncle,
cousin, or another relative
● An adoptive parent or adopted child, if the adoption took place after the child
turned 16 years of age, or if the child has not been in the legal custody and has
not lived with the parents for at least 2 years before filing the petition.
● A natural parent: if you gained lawful permanent resident status or U.S.
citizenship through adoption or as a special immigrant juvenile.
● A stepparent or stepchild: if the marriage that created the relationship took
place after the child turned 18 years of age.
There are certain limited exceptions to the exclusions above and, in those specific
cases, you may be allowed to submit an I-130 petition with additional supporting
documents.
Documents Required to be Submitted with Form I-130
The I-130 petition must be accompanied by supporting documentation showing the
sponsor's right to file the petition and their legal, familial relationship to the foreign
national family member applying for a green card.
Typically, supporting evidence needed for an I-130 petition includes documentation of:
● U.S. citizenship or lawful permanent residence (green card) for the sponsoring
family member
● a legally valid relationship exists under U.S. law
● the relationship is genuine and not fraudulent
● legal name changes for the sponsor and/or the person seeking a green card, if
any
● Proof of nationality of the person applying for the green card

Not every document is necessary to go further. An example of a supporting document
needed for a family-based green card is a copy of the sponsor's citizenship
documentation from their U.S. birth certificate. Do not worry if you do not have all of
these papers with you. The good news is that you can start working on your
application right now as you collect your supporting materials.
Alternative Types of Documents that may be Accepted
You must provide substitute papers (formally referred to as "secondary evidence") for
USCIS to decide whether to approve your I-130 petition if a needed document is not
readily accessible. (Our Love Visa provides comprehensive instruction on how to identify
difficult-to-find materials and how to offer supporting evidence.)

For instance, if your birth certificate is not accessible, you may first get a declaration
from the government body that issued it in your native country attesting that it is not
available there. If so, you will need to acquire additional documentation (such as a
baptismal certificate or academic records) attesting to your birth details or written
declarations from family members who can verify those details.