What is the Difference Between CR1 and IR1 Spouse Visa?
The CR1 or IR1 immigrant Spouse Visa is applicable to you if you are married to a U.S. citizen or green card holder and want to file for your marriage-based green card while living abroad.
The Our Love Visa Experience
Our Love Visa has a simple mission. We believe it should not be difficult or expensive to bring couples together. OLV has helped thousands of couples navigate the immigration process, and it would be a privilege to help you too. Join the OLV Community today!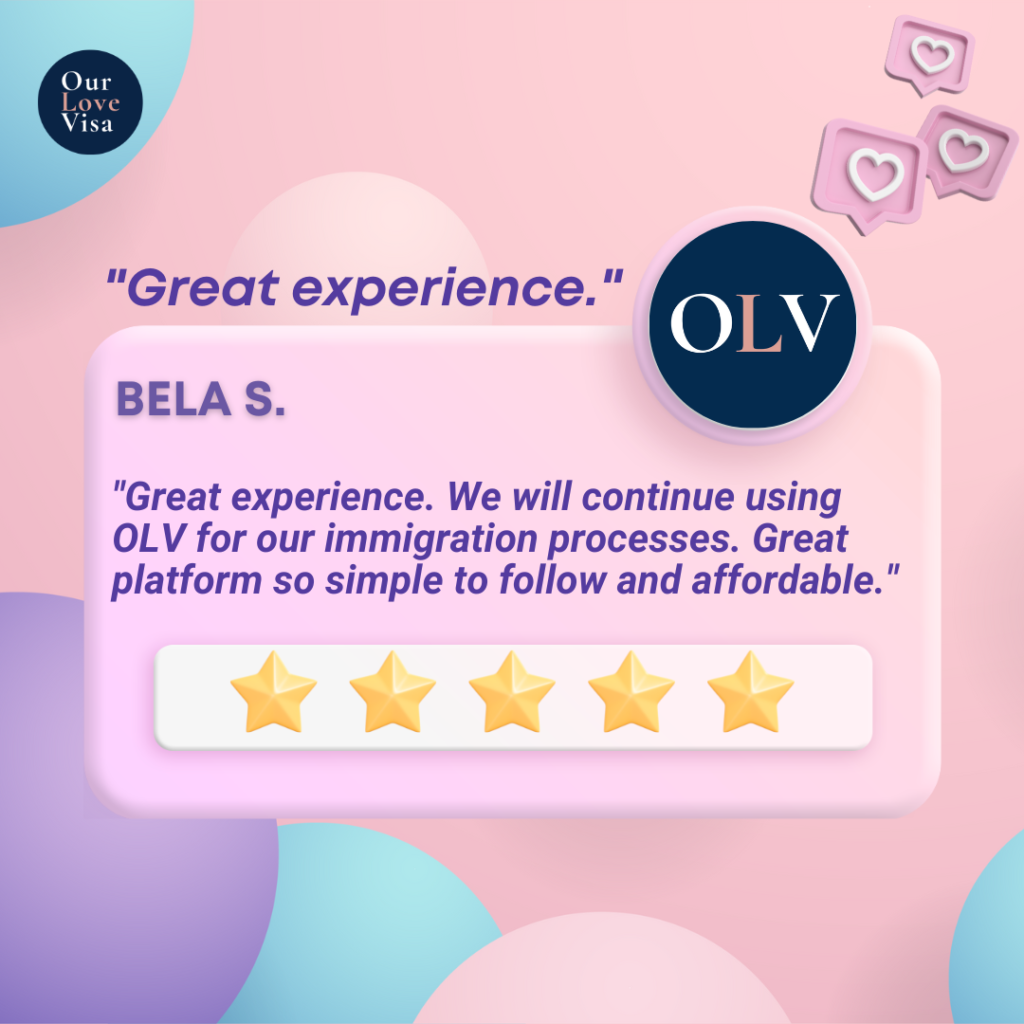 CR1 (or Conditional Resident) visas are given to applicants who have been married for less than 2 years. This visa grants you permanent residence for 2 years (i.e., on a "conditional" basis) which is simply a precautionary measure the U.S. government takes to ensure your marriage is genuine or "bona fide". Two years after you arrive in the U.S. on CR1, you and your U.S. citizen spouse must apply to remove the conditions from the green card to receive your 10-year permanent resident card.
IR1 (or Immediate Relative) visas are given to applicants who have been married for more than 2 years when their green card is approved. The IR1 holder will receive a 10-year green card and does not need to file an application to remove conditions after 2 years.
What are the Requirements for CR1/IR1 Spouse Visa?
A CR1/IR1 immigrant visa allows a U.S. citizen or legal permanent resident (green card holder) to sponsor their foreign spouse to come to the United States.
The sponsoring spouse or "petitioner" must be a U.S. citizen or legal permanent resident.
The couple must be legally married and provide a valid marriage certificate (and divorce certificates from prior marriage(s) if applicable).
You must prove with documentation, such as photographs, travel itineraries, etc., that your marriage is genuine. For more information, see this Our Love Visa guide on proving your marriage is real and not just for immigration purposes.
The sponsoring spouse must file an Affidavit of Support to pledge they will financially support their spouse in the U.S.. They must have the means to support their household at least 125% of the federal poverty level. If the sponsoring spouse doesn't meet the income requirements, they can have a joint sponsor.
The sponsoring spouse must maintain a U.S. domicile, meaning they either live in the United States or must prove they plan to return to the United States with their foreign spouse intending to make the U.S. their home. See our Our Love Visa guide on proving domicile.
How do I get a marriage green card?
If you (the foreign national spouse) are married to a U.S. Citizen or green card holder but live outside of the U.S., you will need to apply for a CR1/IR1 immigrant spouse visa through a consular processing process. Spouse visas are processed by the local U.S. Embassy/Consulate in your country of residence. If you currently reside in the U.S., you must go through the Adjustment of Status (AOS) process, which has its own separate requirements.
Below is a step-by-step summary of the CR1/IR1 visa application process:
Step 1: Check that you are eligible to receive a green card. You'll need to be able to show that you're in a genuine marriage. Your spouse also should be 18 years or older and "domiciled" in the United States.
Step 2: The U.S. citizen sponsor — your spouse — must complete and file Form I-130 (the "Petition for Alien Relative").
Step 3a: You wait for USCIS to process your Form I-130 Petition. This usually takes 4-8 months but can take longer, depending on USCIS backlogs and the accuracy/completeness of your application. 
Step 3b: If you are married to a green card holder, check the Visa Bulletin to see whether a green card is available. You can skip this step if you're married to a U.S. citizen; otherwise, you may need to wait for a visa number to be available. The wait time depends on where you were born.
Step 4: When the I-130 is approved, you will receive notification that the National Visa Center (NVC) has received your application and that you must pay the necessary fees and submit some additional paperwork. The NVC will also instruct you to complete Form DS-260 (the "Application for Immigrant Visa and Alien Registration"). This is the actual green card application where you will answer questions about yourself, such as your work, familial and education history.
Step 5: Once NVC processes the additional paperwork, your local U.S. Embassy or Consulate should notify you about your immigrant visa interview.
Step 6: You must get a medical exam with an Embassy-approved physician before attending your interview. You can check the Embassy's website for a list of acceptable doctors.
Step 7: When it is time for your interview, you must be prepared with your current, unexpired passport. You will be guided on what else to bring and not bring to the interview. You can also contact the Embassy to get a list of additional specific items you will need. You will be asked questions about your application under oath at the interview. 
Step 8: If the Consulate officer has no further inquiries, you can expect to hear back within about a week of your interview. If approved, your visa will be affixed to your passport, and you will receive a sealed envelope with your documents. Do not open or unseal this envelope. The immigration officer at the U.S. border upon your entry is the only one who should open it.
NOTE: Your CR1/IR1 visa will typically remain valid for 6 months following your medical exam. Once the U.S. border officer admits you into the United States your visa will be valid for 12 months, allowing you to travel in and out of the country. You should receive your physical green card during that 12-month period.
What is "Consular Processing"?
"Consular Processing" is the immigration process for individuals applying for immigrant visas from outside the United States. 
For our purposes, below are the visa types that use consular processing:
CR1/IR1 spouse and the accompanying CR2/IR2 child when the sponsor is a U.S. citizen
F2A category (F21 spouse; F22 child) when the sponsor is a legal permanent resident (aka green card holder)