Marriage Green Card Interview Questions
The interview process is vital in bringing your spouse back to the United States. You have to prove your marriage is real at the green card interview. However, depending on where the spouse applying for a green card already resides, each couple's situation is different:
If the spouse who is applying for a green card resides overseas, they will go to the interview alone at a U.S. embassy or consulate in their place of residence. A consular official will conduct the interview.
If the spouse applying for a green card resides in the country, they will accompany the sponsoring spouse to their interview at the nearest USCIS field office. A USCIS agent will conduct the interview.
While some USCIS officials do joint interviews with couples, others may conduct separate interviews. Questioning the couple individually is often, but not always, an indication that the USCIS official suspects marriage fraud.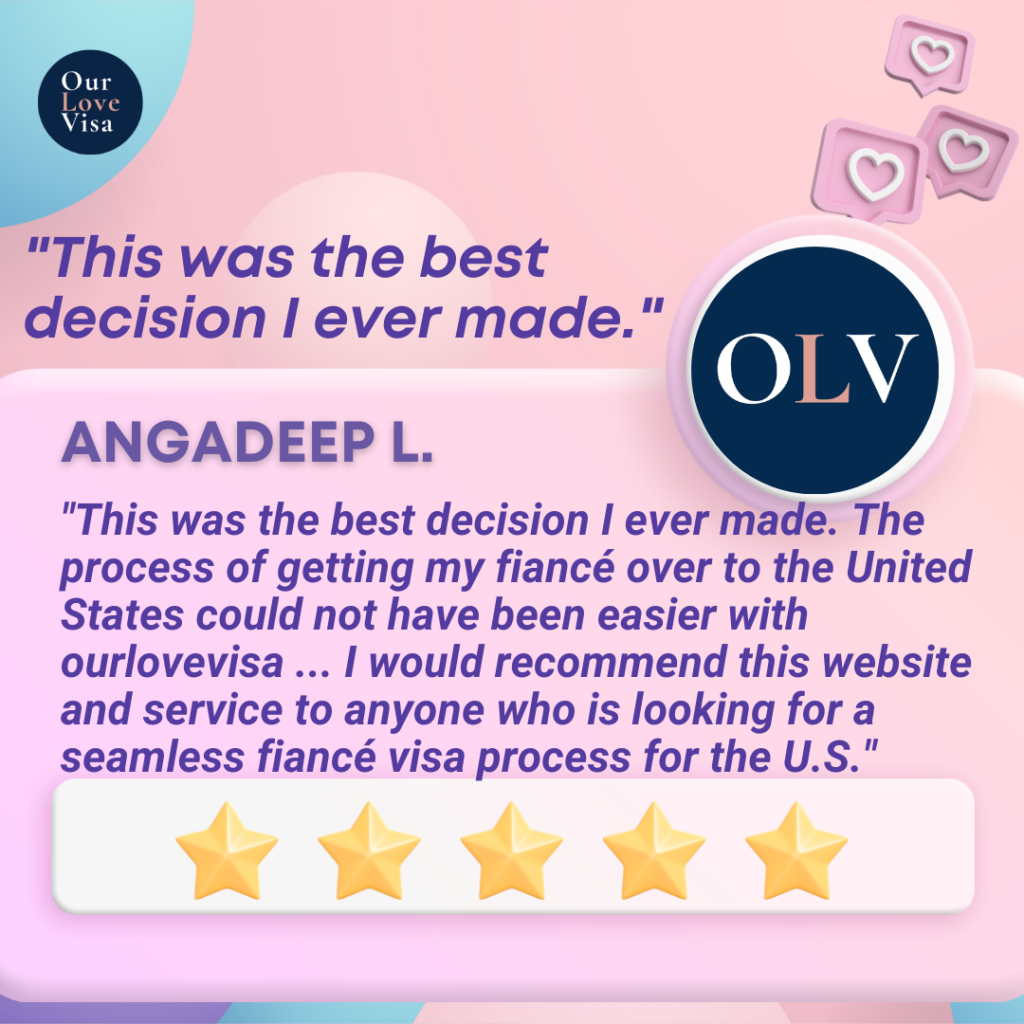 The Our Love Visa Experience
Our Love Visa has a simple mission. We believe it should not be difficult or expensive to bring couples together. OLV has helped thousands of couples navigate the immigration process, and it would be a privilege to help you too. Join the OLV Community today!
Types of Interview Questions you might get
The questioning officer will provide questions they would anticipate married couples to have no trouble answering, whether they are being examined individually or jointly. Officers have a lot of discretion in the questions they may ask; however, they often start with rather straightforward, expected inquiries about how and where you met and how your relationship started.
Also, don't be shocked if your interview becomes personal. Marriage based green card interview questions could include:
If you use birth control, what sort do you use?
If your partner has birthmarks or tattoos, what do they look like?
What kind of marriage issues you've encountered, and how you handled them
Which side of the bed does somebody sleep on?
Check out our marriage green card preparation guide for a more comprehensive list of requirements for the marriage based green card.
With our Premium package, Our Love Visa will provide an independent immigration lawyer to review your marriage green card application and respond to all of your private inquiries. Let's start!