Marriage-Based Green Card Interview
The final stage of obtaining a marriage green card involves undergoing an interview, during which the interviewing officer's primary objective is verifying the marriage's legitimacy. Questions may pertain to the couple's relationship history, daily routine as a married couple, and future plans together. The spouse will be granted a green card upon being convinced that the marriage is genuine. This interview is typically the most daunting and stressful part of the marriage green card application process. Still, anticipating the questions and assembling a well-organized file to present at the interview can be made less overwhelming. It should be noted that if the interview takes place in the United States, it will be conducted by the U.S. Citizenship and Immigration Services (USCIS), while if it occurs abroad, it will be handled by the U.S. State Department.
The Our Love Visa Experience
Our Love Visa has a simple mission. We believe it should not be difficult or expensive to bring couples together. OLV has helped thousands of couples navigate the immigration process, and it would be a privilege to help you too. Join the OLV Community today!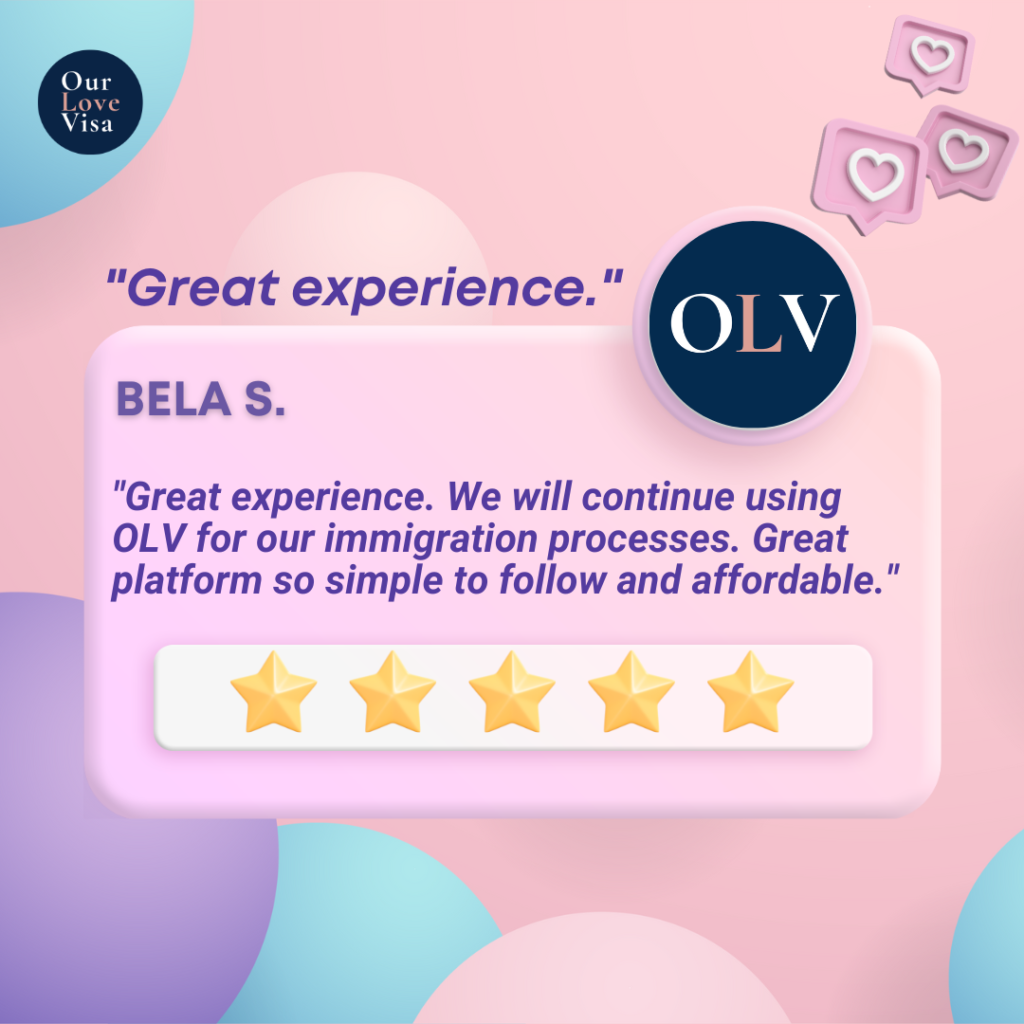 If your spouse is in the United States
After completing the assessment of your green card application, USCIS transfers your file to the USCIS field office situated nearest to your place of residence. The local office will subsequently issue a notice informing you of the scheduled interview for you and your spouse, specifying the interview's time, date, and location. The notice will inform you what to bring, and you both must be present.
If your spouse is abroad
Upon reviewing your green card application materials, the State Department's National Visa Center (NVC) transfers your file to the U.S. consulate that handles green card applications in the foreign spouse's home country. Subsequently, the consulate will issue a notification to the foreign spouse to schedule an interview at a specific time, date, and location. The sponsoring spouse is not required to attend this interview.
Preparing for the Interview
Review key dates and events: Take time to sit down together or schedule a call to refresh your memory about important dates and events in the history of your relationship in the week leading up to your green card interview.
Collect original documents: Gather the original documents for all the copies you submitted with your green card application package, such as passports, birth certificates, marriage certificates, court records, and prior divorce documents, along with any other evidence that proves the authenticity of your marriage.
Prepare new documents: Compile additional and more recent documents that can help demonstrate the legitimacy of your marriage, such as recent photos of you both, birth certificates of any children you share, joint income tax returns, bank account statements, property documents, and insurance papers. For couples living in different countries, including copies of travel itineraries and phone records indicating regular communication may also be helpful. Explore further ideas for documents that can support your case.
Organize your documents: Keep your documents well-organized in a folder, and arrange any photos in a chronological album.
During the Interview
A USCIS officer within the United States or a consular officer abroad, who has received specialized training for conducting marriage-based green card interviews, will administer the interview. The primary objective of the interviewing officer is to evaluate the genuineness of the marriage.
Additionally, the officer will examine whether the foreign spouse meets the eligibility criteria for a green card. Aspects related to the spouse's entry into the United States, past arrests, and prior immigration history will also be scrutinized. This encompasses reviewing previous statements made at embassies, consulates, and by customs and immigration officers at the airport.
Interview Questions
During the interview, the questioning will typically revolve around the history of your relationship, your daily routine as a married couple, and your future plans together. It is also a chance for you to furnish additional evidence that can substantiate the legitimacy of your marriage.
To prepare for the interview, look at this list of common interview questions, which can sometimes touch on personal topics. It is essential to answer the interviewer's questions truthfully, directly, and concisely.
It is not necessary to have an answer to every question, and it is preferable to respond with "I don't know" or "I don't remember" instead of inventing something to answer a question. Feeling pressure to provide an answer to every question is common among couples.
Stokes Interview
When applying for a green card, couples in the United States are typically interviewed together by a USCIS officer. However, in some cases, couples may be interviewed separately, either by different officers or the same officer but at different times. This type of interview is known as a "Stokes" interview, named after a court case that established rights for the couple being interviewed.
Stokes interviews are often conducted by officers from USCIS' Fraud Detection and National Security unit (FDNS). Each spouse is questioned separately, and their answers are compared for inconsistencies. A couple may be called in for a second interview if they have already been interviewed once.
Stokes interviews are usually conducted for three reasons:
USCIS has identified potential "red flags" that suggest a fraudulent marriage, such as a significant age difference, a very short marriage, different cultural backgrounds, or different addresses for the spouses.
USCIS has uncovered potentially negative evidence about the marriage as a result of an FDNS investigation.
During a regular interview, the USCIS officer may switch to a Stokes interview format if new information comes up that requires further exploration.
What happens after the interview?
A green card interview can result in one of five outcomes:
Approval: The officer will let you know that your case has been approved.
Request for evidence (RFE): The officer may request additional documentation to prove the authenticity of your relationship, such as bank statements or statements from friends and family.
Additional review: The officer may indicate that your case requires further review, and you will need to wait for a final decision or additional instructions in the mail.
Second interview: The officer may invite you for a second interview to discuss specific aspects of your relationship or background. You will receive a notice of the interview from USCIS or the consulate.
Denial: If the officer determines that you are not eligible for a green card, they may deny your application on the spot. Factors that can negatively impact eligibility include insufficient documents, issues uncovered in the background check, or past immigration problems. However, the officer will usually allow you to address any issues before making a final decision.