How do you immigrate from the UK to the US on a Fiancé or Spouse Visa
Below is information on the fiancé and spouse visas, contact information for the U.S. embassy in the UK, and some additional information
The Our Love Visa Experience
Our Love Visa has a simple mission. We believe it should not be difficult or expensive to bring couples together. OLV has helped thousands of couples navigate the immigration process, and it would be a privilege to help you too. Join the OLV Community today!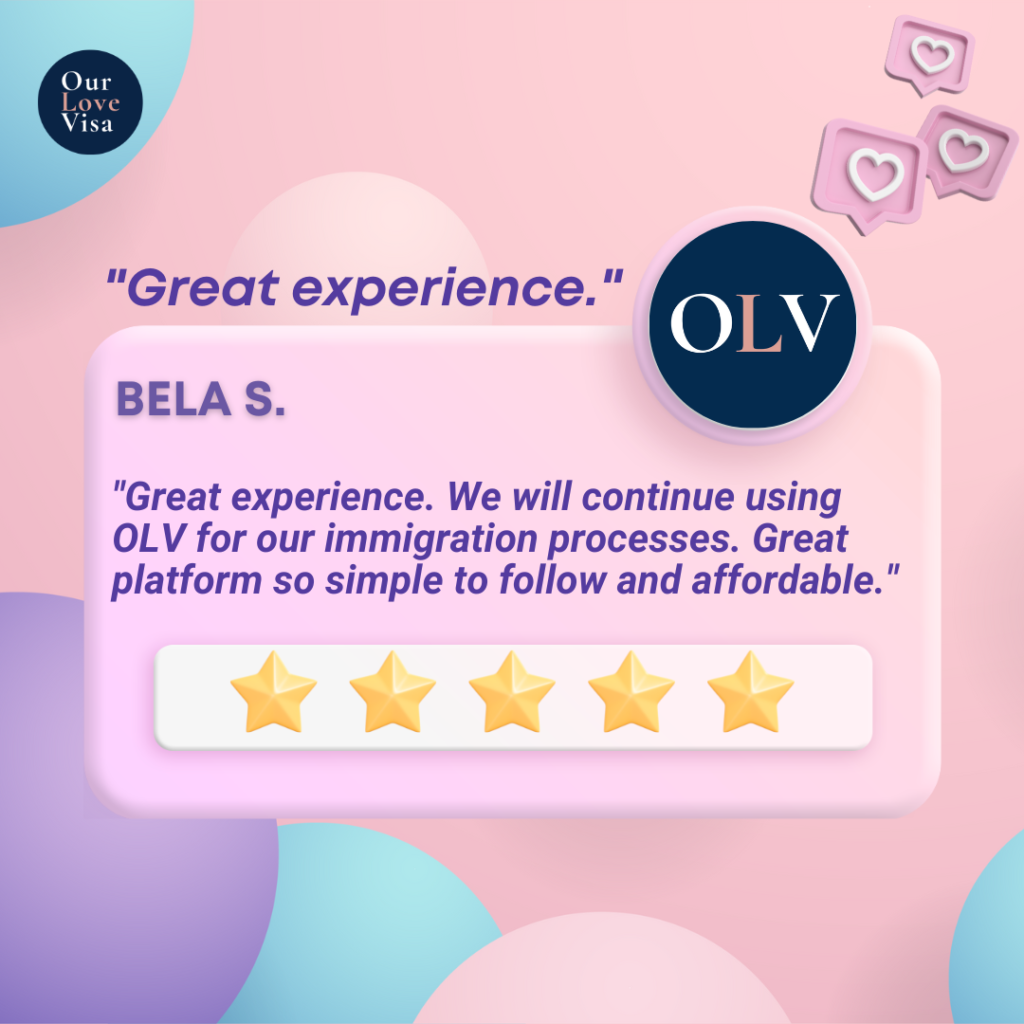 K-1 Fiance Visa
Do you want to apply for a K-1 visa for your British fiancé? The K-1 visa application process is the same for British citizens, just like it is for other applicants. Additional information on K-1 waiting time, cost, and requirements are available within Our Love Visa's K-1 guidelines.
Green Cards through Marriage
If you are already married or thinking of getting married in the near future, you may be planning on applying for a marriage-based Green Card. The wait times, fees, and requirements vary based on the location where you live, where the British spouse is applying from, and if the spouse who is sponsoring them is either a U.S. citizen or a Green Card holder. Additional information is available in Our Love Visa the marriage-based Green Card guide.
Marriage-based green card processing times
Immigrating with children
K-2 Visas
Will your British fiancé's kids move to the U.S. with your fiancé? If you're planning to go with the route of a K-1 fiance visa, then your fiancé's children will need to get the K-2 visa. The K-2 visa is for children of your British fiancé to travel to the United States and immigrate with your fiancé.
Our Love Visa can assist you in including any children of your K-1 fiancé, who are under the age of 21 and not married, at no additional charge with the Premium Package. Find out more about Our Love Visa's services to assist.
IR-2 Children Visas
If a child of a U.S. citizen lives in the UK, it could be possible to get them a green card by using the IR-2 process. Further details on the procedure and requirements are available in Our Love Visa's guide to IR-2.
U.S. Embassy Information
All immigrant visa applicants from the UK are processed by the U.S. Embassy located in London:
U.S. Embassy London
33 Nine Elms Lane
London, SW11 7US
United Kingdom
Phone: [44] (0)20 7499-9000
To schedule K-1 or spousal visa interviews, applicants from the UK must go through the Visa Appointment Service website and follow the step-by-step instructions. UK applicants might be able to find this interview guide useful.
Immigrant visa steps for approval
If approved, applicants from the UK are issued an immigrant visa and get their passports returned through an Embassy-approved courier. To ensure there are no delays in the delivery, applicants should sign up at the address of their courier before the date they make an appointment for their visa interview. When the visa process is completed and the delivery arrangement has been made the courier will notify applicants via email and/or text with the delivery tracking details.