What Evidence do I Need to Prove Domicile for my Green Card Application?
The Our Love Visa Experience
Our Love Visa has a simple mission. We believe it should not be difficult or expensive to bring couples together. OLV has helped thousands of couples navigate the immigration process, and it would be a privilege to help you too. Join the OLV Community today!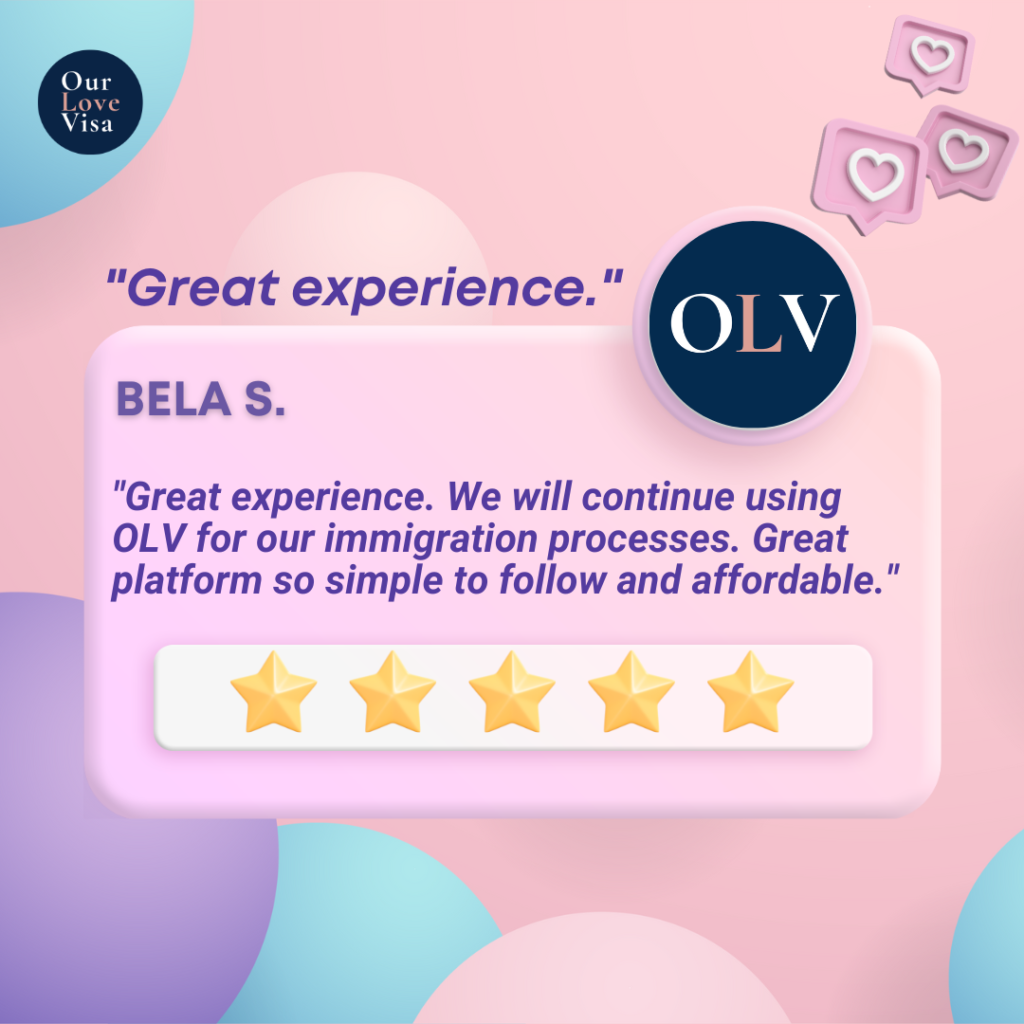 What is Domicile and how is it Established?
For immigration and tax purposes, "domicile" refers to the country where you reside with the intent of making it your permanent home. You can only have ONE domicile. It can be where you presently reside permanently and long-term, or where recently moved with the intention of making it your permanent home.
You must show that you have "domicile" in the United States, that is, that it is your permanent home, if you sponsor a spouse and family member for a green card. The Form I-864 ("Affidavit of Support") domicile proof instructions are provided in this article.
Our Love Visa has streamlined all the necessary government forms and requirements into easy questions that you can complete online, usually in less than an hour, and provides free tools that can help plan and track your application progress. Find out more and start your U.S. immigration process today.
You can use our tools and features for free, whether or not you choose to use the paid form function or work with someone from our independent attorney network. Our Dashboard has a personalized planning tool and relationship timeline to help you organize and strengthen your immigration application. We also have a tracking tool that securely pulls your immigration case status updates from the USCIS website.
Our Love Visa exists because we truly believe it should not be expensive or complicated to bring our loved ones home. Learn about what you get with our attorney-designed platform.
What Does Establishing Domicile Mean and Why is it Required?
The U.S. citizen or permanent resident supporting the visa application must demonstrate physical presence inside the United States or a U.S. territory as part of the Form I-864 Affidavit of Support process. As a matter of policy, the U.S. government does not allow your spouse or family member to obtain permanent residence, if you (the Sponsor) do not have U.S. domicile.
If you (the sponsor) presently live abroad, you must show that you have significant ties to the US and that you have the intention to do so. In certain cases, even if you have been working for specific American companies while residing overseas, you may still be able to claim U.S. domicile.
Anyone who sponsors a green card based on a marriage or family relationship must reside in the country.
The National Visa Center (NVC) or the American embassy or consulate where you submit your application may need proof that any time spent living abroad during the last two years was temporary and that you have firm intentions to return to the United States.
If not, you may need to provide evidence that you intend to re-establish your residence either ahead of time or concurrently with the green card applicant's arrival in the country.
How Can I Prove U.S. Domicile?
To Recap: your "U.S. domicile" means intent to and actually maintain a permanent home in the US. The good news is your domicile can change in an instant – as long as you have sufficient evidence of the same. The country of domicile is decided on a case-by-case basis, and you cannot show you have a US domicile with only the intent to move. You must meet the physical component as well and will have to overcome the Consulate officer's challenge with evidence – intent to move is not sufficient. We have to show in fact that you are NOW domiciled in the US.
You, the sponsoring partner or family member, may still be able to satisfy the domicile requirement even if you and your partner have been residing abroad if you can demonstrate the following:
Your principal home is still in the United States, and you just temporarily resided abroad.
The immigrant visa applicant intends to arrive in and establish residence in the U.S. before or on the same day as your return to the U.S.
You work for an American company and are positioned overseas, or the U.S. government or American institution abroad.
You must send Form I-864 and supporting documentation to the National Visa Center. If not, you may provide a copy of your proof of residence to the consular official during your green card interview for consideration.
Living abroad temporarily:
Many U.S. citizens and permanent residents spend part of their time living abroad. You may need to demonstrate that you still have ties to the United States and that you plan to return after a certain, definite, length of time, even if there is no time restriction on how long you may stay abroad before you can no longer claim domicile in the United States. You may use the following as instances of acceptable proof:
A history of voting in the U.S.
Federal, state, and municipal tax records, and payment of bills
Evidence you own or lease Property
School matriculation/enrollment records for your children
Medical records showing your primary doctors are in the U.S.
U.S.-based bank, brokerage, and/or investment account
Evidence of a long-term postal address
Community ties and extra curricular activities
Evidence you are selling your property abroad or your lease abroad is expiring and not being renewed
Other evidence, such as documentation of a brief stay permitted by another government or a short study-abroad authorization
How do I prove that I want to live in the United States?
If you cannot claim residence because you are outside of the U.S. when you apply for a green card, you may demonstrate your intention to return and do so. This may be done before or concurrently with the applicant's arrival that you are supporting, but not after.
You may provide many sorts of proof to demonstrate your intention to establish domicile (i.e. U.S. residence with the intent to make it your permanent home), such as:
Opening a bank account
Money transfer to a United States bank account
Evidence that you are looking for work in the United States and/or have secured work in the U.S.
Evidence of attempting to lease or purchase a home in the U.S., such as a flat or a house
Requesting a Social Security number
Elections at the municipal, state, or federal levels
What additional situations permit a U.S. person to maintain their U.S. domicile while residing abroad?
If you are an American citizen temporarily stationed working for/with one of the following, even if you live abroad:
The U.S. government
A U.S. research institution (as recognized by the Attorney General)
A U.S. company working on expanding its business with other countries
An international public organization that the United States is a member of either by treaty or law
A U.S. interdenominational missionary group or religious organization