K-1 Visa Processing Times
The current K-1 visa processing times are 12-18 months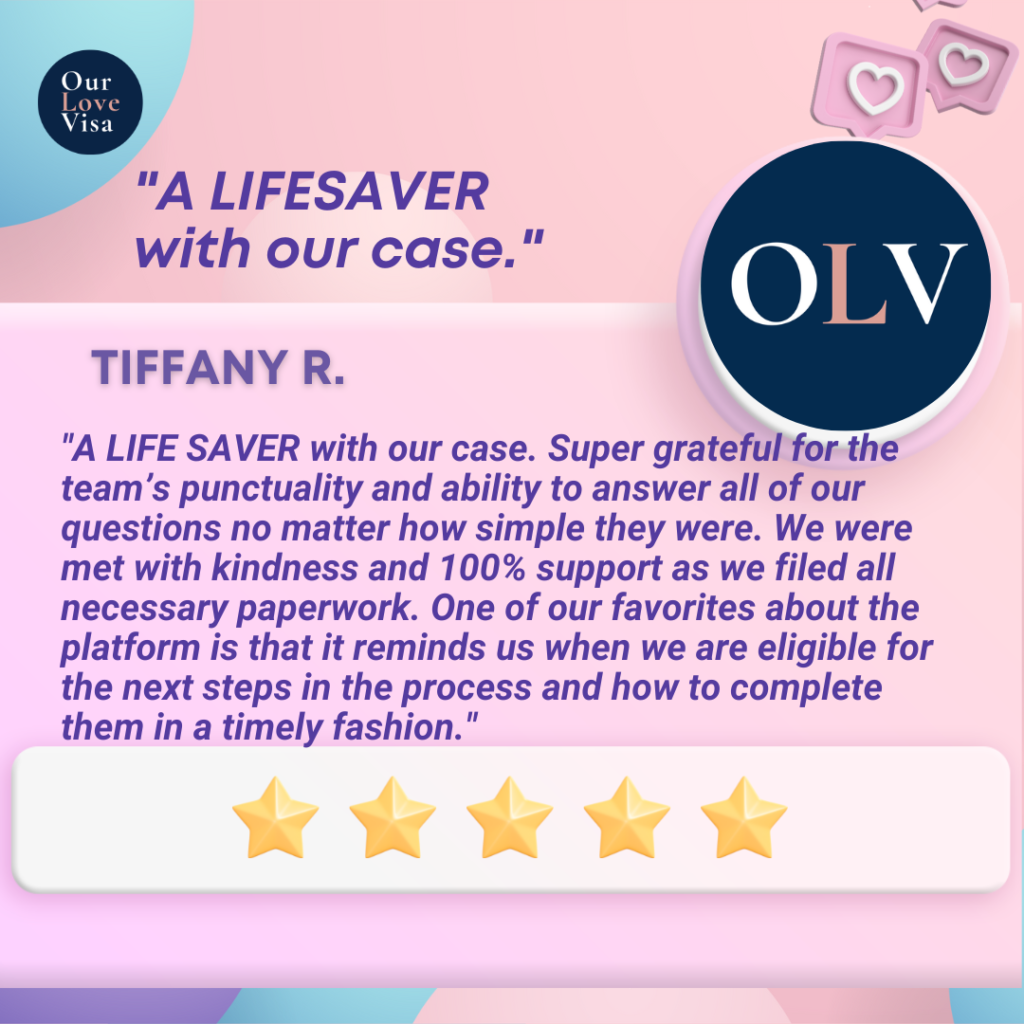 The Our Love Visa Experience
Our Love Visa has a simple mission. We believe it should not be difficult or expensive to bring couples together. OLV has helped thousands of couples navigate the immigration process, and it would be a privilege to help you too. Join the OLV Community today!
A K-1 fiancé visa processing time takes 12-18 months on average. Please note that the total visa processing timelines will also depend on the country you are applying from as there may be a delay between the time your application is approved by USCIS and the U.S. Consulate's interview availability.
Each step of the Fiance visa process has specific processing timelines. Use our free tools to strengthen your application and prevent additional, applicant-caused delays.
Our Love Visa has streamlined all the necessary government forms and requirements into easy questions that you can complete online, usually in less than an hour, and provides free tools that can help plan and track your application progress. Find out more and start your U.S. immigration process today.
Immigration support is available at an affordable price. The best part, you can use our tools and features for free, whether or not you choose to use the paid form function or work with someone from our independent attorney network. Our Dashboard has a personalized planning tool and relationship timeline to help you organize and strengthen your immigration application. We also have a tracking tool that securely pulls your immigration case status updates from the USCIS website.
Our Love Visa exists because we truly believe it should not be expensive or complicated to bring our loved ones home. Learn about what you get with our attorney-designed platform.
Filing Form I-129F with USCIS
Current K-1 visa processing times average range: 12-18 months
The U.S. citizen fiancé must submit Form I-129F to USCIS as the initial step for a qualified couple. This form's main objective is to demonstrate the legitimacy of the partnership. See the Our Love Visa K-1 overview guide for further details on what should be included in Form I-129F.
USCIS will issue an approval notification after USCIS approves Form I-129F. USCIS will normally issue a receipt notification within 30 days of receiving the form and accompanying papers. If USCIS needs further information, they may issue a Request for Evidence (RFE).
Uncertain about your eligibility for a K-1 visa? Check if you're eligible now.
NVC (National Visa Center) and Form DS-160
Average timeline: 7 months, although it might vary greatly depending on the place of origin.
The U.S. Embassy or Consulate in the sponsored fiancé's home country sends them a notification when the I-129F fiancé sponsorship form is authorized, detailing the time and place of their visa interview and a list of necessary paperwork. USCIS notifies the NVC to take over the processing of the application when Form I-129F is authorized.
Additionally, the sponsored fiancé must complete the online DS-160 form from the State Department (officially known as the "Online Nonimmigrant Visa Application"). Printing the confirmation page after submitting the form online is crucial since this is a genuine K-1 visa application.
Embassy Processing Times (Months)
Country
Average
Minimum
Maximum
Brazil
6
2
17
Canada
8
5
13
China
3
0
6
Colombia
8
0
20
Dominican Republic
6
2
24
India
5
2
8
Indonesia
10
4
16
Mexico
6
0
9
Nigeria
9
1
26
Philippines
16
1
30
Russia
6
2
12
Thailand
5
0
23
Ukraine
3
2
7
United Kingdom
6
2
23
Vietnam
10
7
13
U.S. Embassy or Consulate Interview
Average timeline: 1 month
The fiancé shows up for the visa interview at the closest American embassy or consulate in their place of residence.
Usually, the interviewing officer decides during or shortly after the interview. When the Consulate officer needs further information, they may request it to be sent directly to an American embassy or consulate.
Processing Time for K1 Visa to AOS (Adjustment of Status)
You have 90 days after entering the U.S. on your K-1 visa to get married. You must apply for an adjustment of status (AOS) after getting married to change to a marriage-based green card. The duration from K1 to AOS is currently between 12 and 27 months. However, it may take longer, depending on your circumstances. It is important to file a complete application to ensure there are no delays resulting from failure to follow the instructions, missing required documentation, or other applicant-caused delays.