LGBTQ Fiancé Visa United States – Same-sex marriage
In the United States, the process for obtaining a fiancé visa (also known as a K-1 visa) is the same for all individuals, regardless of their sexual orientation or gender identity. LGBTQ individuals are eligible to sponsor a fiancé for a K-1 visa if they meet the requirements for petitioning for a fiancé and the fiancé meets the requirements for the K-1 visa.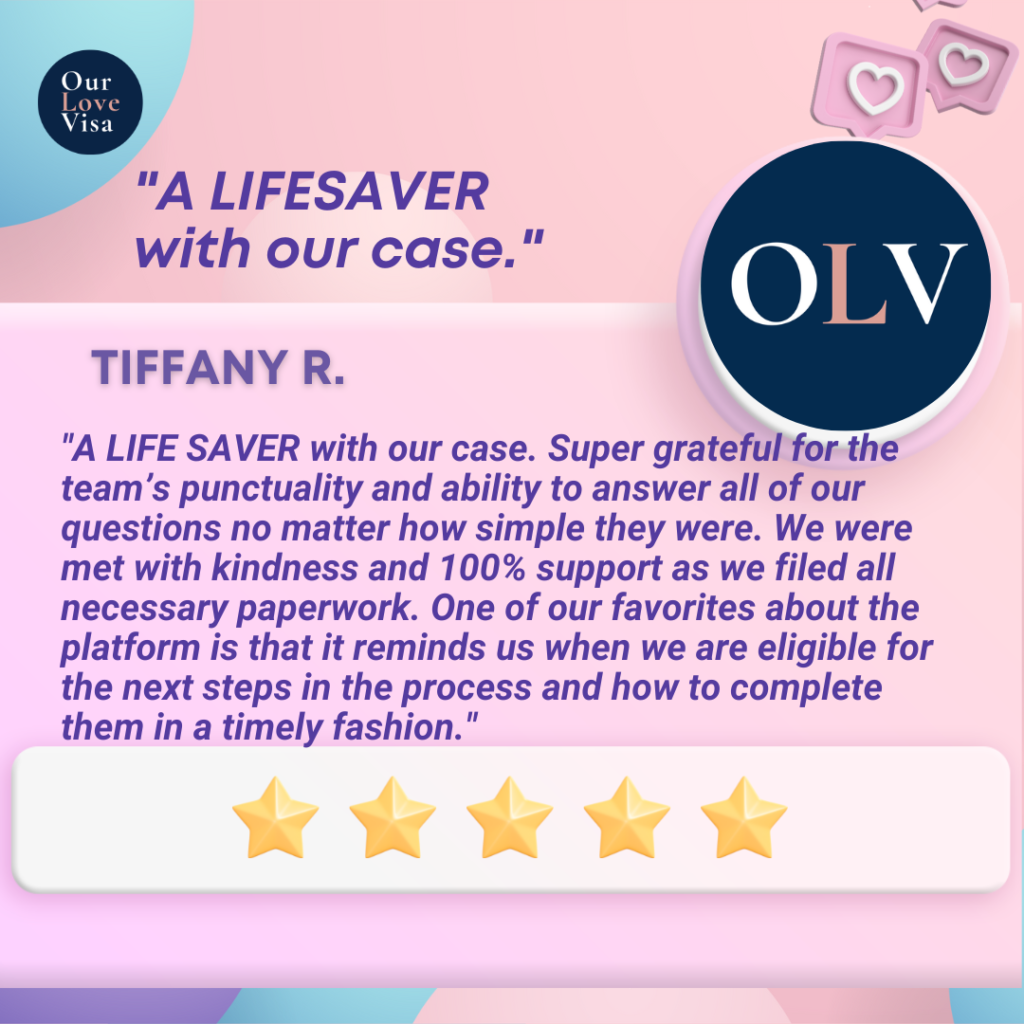 The Our Love Visa Experience
Our Love Visa has a simple mission. We believe it should not be difficult or expensive to bring couples together. OLV has helped thousands of couples navigate the immigration process, and it would be a privilege to help you too. Join the OLV Community today!
To petition for a K-1 visa, the petitioner (a U.S. citizen) must be at least 18 years old and meet certain income requirements. The petitioner must also demonstrate that they genuinely intend to marry the beneficiary (the foreign national) within 90 days of the beneficiary's arrival in the United States.
The beneficiary must also meet certain requirements, including being eligible for a visa and admissible to the United States. This includes being physically and mentally healthy, not having a criminal record, and not posing a threat to national security.
If the petitioner and beneficiary meet all of the requirements and are able to provide the necessary documentation, they can apply for a K-1 visa. The process includes submitting an online petition, providing supporting documentation, and attending an interview at a U.S. embassy or consulate.
It is important to note that same-sex marriage is legal in the United States, and LGBTQ individuals have the same rights as any other couple when it comes to sponsoring a fiancé for a K-1 visa.
Love is love!
Biden's speech before he signs same-sex marriage bill
Read The K1 Visa Requirements: A Complete & Comprehensive List
---
Our Love Visa is an online platform designed specifically for couples undergoing the Fiancé visa process. The platform makes it easy with a step-by-step plan and easy to fill out forms that work through the necessary forms and gather the required documents. You can easily track your progress and stay on top of important deadlines. Consider giving Our Love Visa a try to help build your future together in the United States.
---