International Marriage Brokerage Regulation Act (IMBRA)
IMBRA is meant to protect fiancé(e) and marriage visa applicants from abuse at the hands of a green card sponsor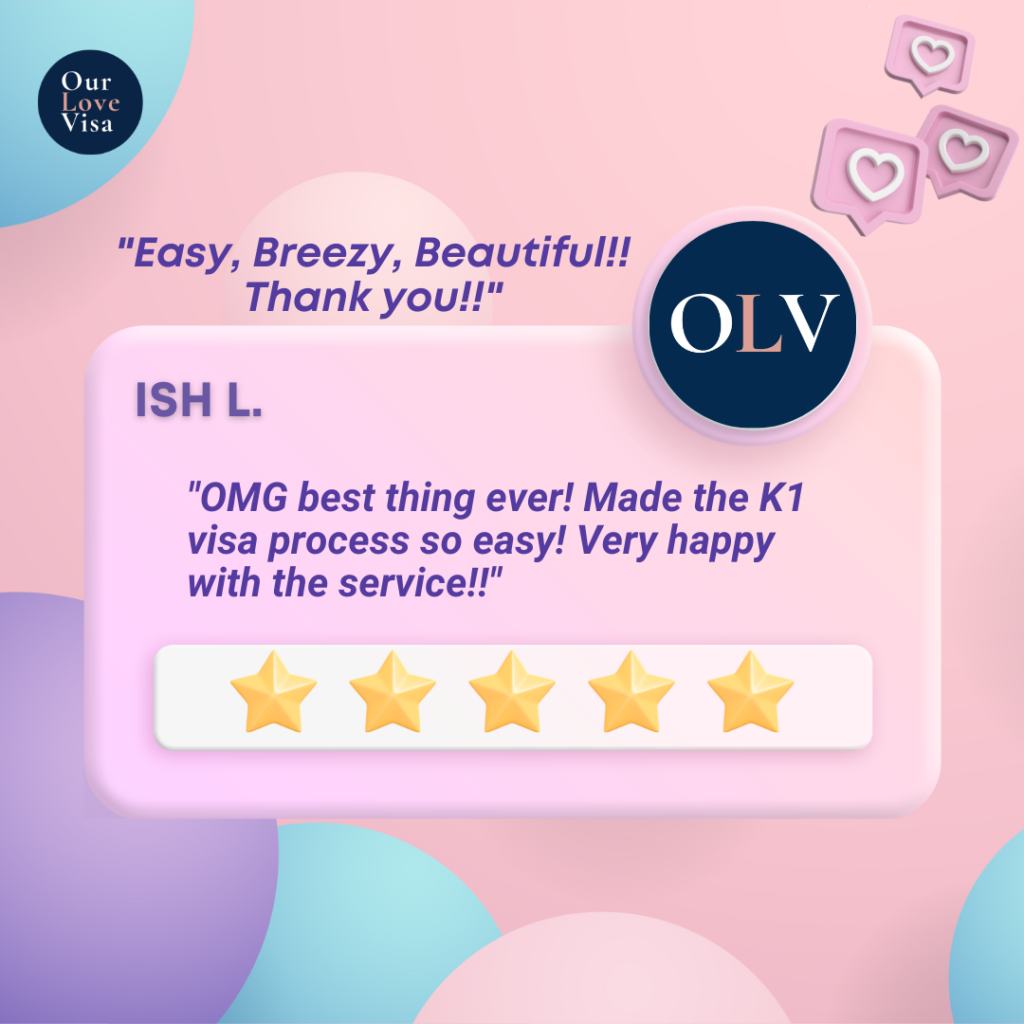 The Our Love Visa Experience
Our Love Visa has a simple mission. We believe it should not be difficult or expensive to bring couples together. OLV has helped thousands of couples navigate the immigration process, and it would be a privilege to help you too. Join the OLV Community today!
The International Marriage Broker Regulation Act (IMBRA) was created to safeguard fiancé(e) and marriage-based green card applicants – especially women and children – against mistreatment by the sponsoring spouse.
When submitting a marriage-based green card application, you will be questioned in-depth about your relationship with the spouse sponsoring you. You and your spouse must provide evidence to the U.S. government proving that your marriage was not mainly for immigration reasons. The questioning officer may ask personal questions, such as "Was this marriage brokered," in addition to inquiries about significant moments in your relationship to protect the safety of the spouse applying for a green card. or "Has your partner or sponsor ever abused you physically or emotionally?" It is important to recognize that neither the answers to these questions nor the ethnic or racial backgrounds of each respondent are meant to reflect on either person personally.
All sponsors of marriage visas are required by U.S. law to submit background checks, as do all U.S. individuals sponsoring a person via a marriage brokerage business, such as a mail-order spouse.
IMBRA History
IMBRA, passed in 2005 in response to the deaths of two women with marriage green cards at the hands of their husbands, aims to shield foreign nationals on marriage visas against mistreatment and even murder. Language challenges, a lack of or insufficient support networks, and a lack of knowledge about the options accessible to them should they become victims of abuse or violence are some vulnerabilities that immigrants and recent Americans exhibit. Additionally, individuals who arrive via a facilitated relationship, such as a mail-order spouse, lack the social support that others may have acquired throughout their time in the country.
The U.S. government is required under IMBRA to provide information on the immigrating partner's legal rights, the potential criminal history of the sponsoring fiancé(e) or spouse (the U.S. citizen), and how to get help if a relationship becomes abusive.
The Act aims to safeguard individuals throughout the relationship-brokering process. For example, to safeguard minors, international organizations that link individuals online, like marriage agencies, are not permitted to provide anybody in the United States any information — including photos, content, or other details — on anyone under the age of 18.
The Act's other important clauses also include the following:
Mandatory Background Checks – Regardless of the petitioner's request, their criminal past will be made public.
Disclosure of Marriage Broker – If a couple met via a marriage broker, U.S. Citizenship and Immigration Services must be informed (USCIS). The broker's approval might be impacted if they do not fulfill the requirements.
The couple must be ready to discuss the website and their online dating history if they first met online.
Serial Petitions Prevention — A citizen of the United States may file for only two K-1 visas in their lifetime. Spousal visas are not subject to this restriction.
Rejection Due to Prior Violations – Potential sponsors are immediately disqualified if they have a history of certain violent or sexual offenses, such as murder, assault, sexual exploitation, or abuse. Although exceedingly difficult to get, waivers may provide relief from automatic disqualification.
Penalties for Misinformation – A sponsor or applicant who intentionally supplies false information may be subject to a fine or perhaps jail.
With Our Love Visa, you benefit from the assurance of an impartial immigration lawyer who will examine your application papers and respond to your queries at no extra cost.
Know Your Rights
Domestic violence, sexual assault, and child abuse are prohibited under all circumstances in the US. All persons are granted protection against abuse under the law, regardless of gender, sexual orientation, age, color, ethnicity, or immigration status. This is not a state-by-state problem. In both civil and criminal law, these safeguards are in effect.
USCIS is mandated to inform individuals of their rights and resources as part of IMBRA. They do this, among other things, by disseminating the booklet titled "Information on the Legal Rights Available to Immigrant Victims of Domestic Violence in the USA and Facts concerning Immigrants on a Marriage-Based Visa."
Additional Protection
Given the statement that all persons are protected against it, it may seem as if the civil and criminal safeguards against domestic violence and sexual assault are all-encompassing. In contrast to 1 in 4 males, 1 in 3 women in the US suffer domestic abuse. The Abuse Against Women Act, a federal statute approved by Congress in 1994, offers particular support and rights to women who suffer domestic violence, especially immigrants and women seeking documentation. The statute was set to expire in 2018 by the Trump administration. Despite having bipartisan discussions in 2019, no agreement on approval could be reached. Since President Biden was one of the authors of the original legislation, it seems probable that the statute will be restored and reestablished during the Biden administration.
Our Love Visa works with you to submit your green card application by converting the necessary government documents into short online quizzes that can be completed in under two hours as opposed to days or weeks in an old-fashioned manner. A free impartial immigration lawyer will also analyze your whole application package and respond to any of your queries. Prepared to begin? Find out more, or check your eligibility right now.