Tips to Complete Your Address History on a Green Card Application
How to confidently and accurately provide your record of physical addresses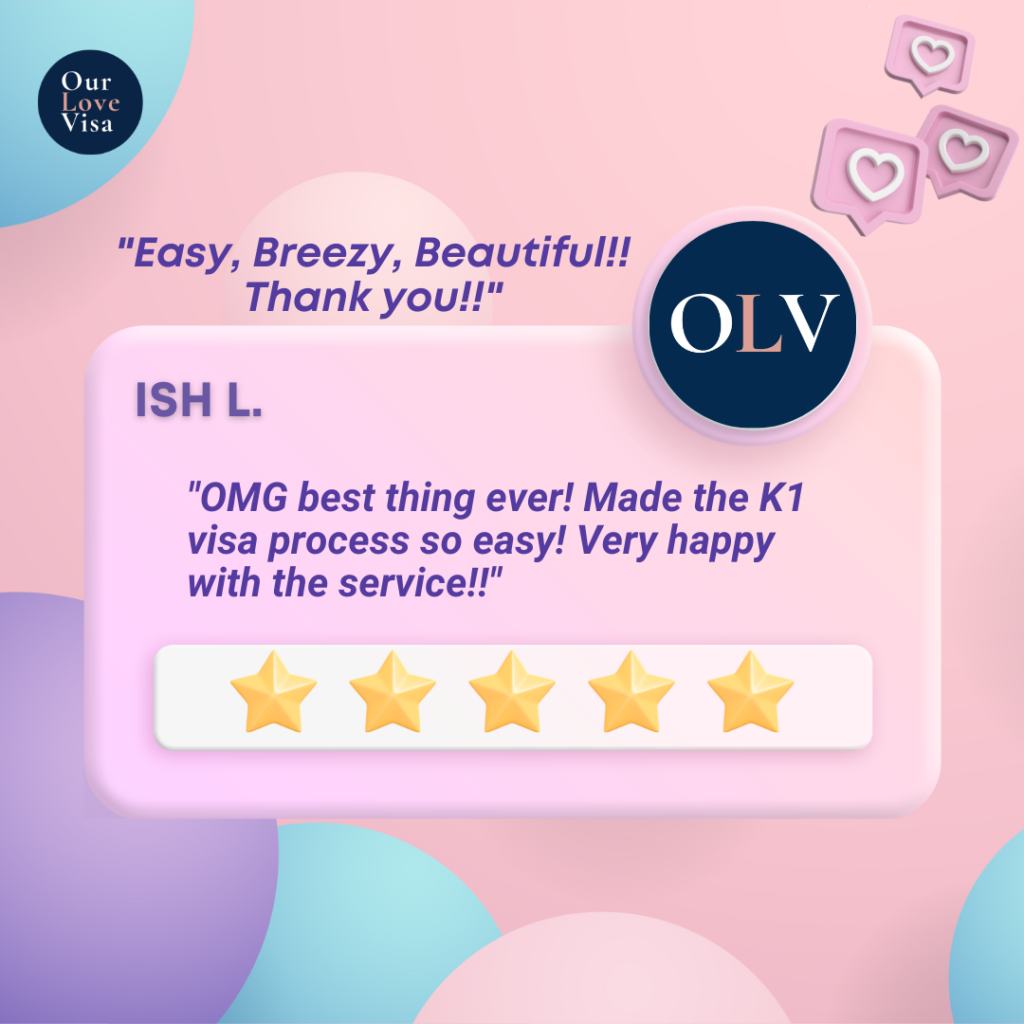 The Our Love Visa Experience
Our Love Visa has a simple mission. We believe it should not be difficult or expensive to bring couples together. OLV has helped thousands of couples navigate the immigration process, and it would be a privilege to help you too. Join the OLV Community today!
What address history is required for the green card application?
Most of the Immigration Forms required throughout the marriage green card process ask for the address history of the family member applying for a green card and the family member sponsoring them.
On your family-based or marriage-based green card application to be filed with USCIS, both the sponsoring family member and the applicant must provide the U.S. government with a five-year address history. If you are applying from consular processing, you must provide every address you've resided at since you were 16 years old.
It could be a fairly straightforward task if you've been living in the same location for many years. However, if you've relocated so often that you can no longer remember your past residences or the precise dates you resided at each one, this article will describe how to gather your address history to provide on immigration forms. 
Your address history is an important part of U.S. government background checks. You are required to gather and provide this information for the government to know who you are and to do necessary security screenings. It is critical to ensure you are providing accurate and complete information and for your information to be consistent across all your applications. 
Filling out your green card application, including your address history, is simple with Our Love Visa. Find out how we can assist you, or start right now.
Requirements for Address History
Below are the address history requirements for respective immigration forms required in your family-based or marriage green card application process.
Which form?
Whose address history?
For which years?
Family Sponsorship Form (I-130)
Sponsoring family member (U.S. citizen or green card holder)
Past 5 years
Supplemental Information Form (I-130A)
Green card applicant living abroad or in the U.S.
Past 5 years
Green Card Application
(I-485)
Green card applicant living in the U.S.
Past 5 years
Online Green Card Application (DS-260)
Green card applicant living abroad
Age 16 until now
The I-130, I-130A, and I-485 "Address History" sections have official instructions from U.S. Citizenship and Immigration Services (USCIS). As a result, you must include the start and end dates (month, day, and year) of each physical residence you occupied throughout the previous five years, whether in the United States or elsewhere. You must also give your most recent physical address outside of the United States, where you resided for more than a year if you lived overseas at any point during that five years (you may need to enter this address twice in the same section). It should be noted that even if you resided at a foreign location more than five years ago, you must still disclose the address.
If you can't recall the precise date, USCIS advises giving an estimate and a justification.
The National Visa Center (NVC) simply wants the months and years the green card applicant resided at each place, beginning at age 16. This requirement is for the State Department's online DS-260 form which is your application for an immigrant visa.
A "physical address" is where you reside, instead of a post office box or another address just to receive mail.
IMPORTANT: Start with the most current address and work your way backward.
The address history matches the employment and immigration history to prevent USCIS from requesting more information about why the histories don't align, which could delay a green card application.
If the histories don't match up for a valid reason (for instance, the applicant worked remotely or they listed the headquarters address for their company rather than the physical office address), then they can explain why on the form or in the addendum.
Incomplete and Missing Address History
To avoid USCIS demanding extra information about why the histories don't line up, which will delay your green card application, make sure the address history correctly corresponds with the work and immigration history. You will receive a Request for Evidence from USCIS or a notice of inquiry from the Consulate. Incorrect information can also lead to a denial of your application.
If your address history has discrepancies, you must have a legitimate explanation for why the histories don't align (for example, the applicant worked remotely or indicated the firm headquarters location rather than the real office address). In that case, you should explain any areas of concern or differences on the form or in the application addendum.
Missing Address History
You'll sign a signed declaration attesting to the accuracy of your responses towards the bottom of each form. As with all sections of your application, you should use caution while completing this section of the application. Your green card application may be delayed or even rejected if your address history has a lot of inexplicable gaps. Furthermore, accuracy is crucial when providing any information to the U.S. government. Giving false information on purpose is illegal and is referred to as "perjury" or "lying under oath."
You need to try to provide a comprehensive and correct address history. Below are consequences you may expect from the U.S. government that is less severe than an outright refusal of your spouse visa or green card if you are unable to provide a complete address history:
They could issue you an official request for evidence, or RFE, asking you to update your application with a more thorough address history
During your green card interview, they could inquire about the gaps.
That said, don't get upset if you can't remember certain past addresses or dates. Many people don't retain accurate records of their previous homes and relocation dates, particularly if they've moved around a lot, as those who serve in the military usually do. In the past, the U.S. government has often given this section of the green card application considerable leeway.
It's usually a good idea to fill in any blanks on your documents or, if possible, fill them out by looking up your previous addresses (see below for tips).
You may easily maintain your address history in the Our Love Visa platform to look for any gaps. Get started or find out more!
Tips for Finding Old Addresses
You're not the only one who has problems remembering past addresses. This might be challenging if you've moved about a lot over the years and haven't maintained an accurate record of every residence you've had.
However, there are easy strategies to help find your old addresses. Here are some options for how to find old addresses to complete your address history:
Free credit report check: Pull your free credit report with a trusted / government-endorsed service (there are three major credit bureaus in the U.S.). Based on credit accounts you've established in the last seven to ten years, such as credit cards and loans, each credit report includes a record of former residences. But remember that these reports will only provide the addresses of your residences, not their dates.
If you've never had a credit account, you may ask a company that keeps track of your financial activities for a different consumer report. These reports may not be free and the fee varies depending on the reporting organization.
Examine your order history: Check your order history for addresses you've used if you've purchased from the same online merchants for several years, like Amazon.
Take a look at your past legal documents like your tax returns: You must provide a duplicate of your most recent federal income tax return with your financial support or Affidavit of Support form (I-864). You can also find old addresses on tax returns from previous years.
If you did not file a U.S. tax return or have a credit history to aid in locating an old address if you now reside overseas or have in the past. Looking through old data like bank statements, job contracts, medical records, and school files may be more fruitful in this circumstance.
How can you eliminate gaps and overlaps?
Remembering your address history without relying entirely on records and housing paperwork, such as lease agreements, address-change confirmations, and physical mail is crucial. Though useful, they could not provide a complete picture and still leave gaps or overlap the period you resided at each home.
Getting rid of gaps There cannot be a time difference between the start date at a new address and the end date at any prior address. The applicant must still give an address for the two weeks between February 1 and February 14, 2020, for instance, if their previous lease ended on January 31, 2020, but their new one began on February 15, 2020.
Gaps may sometimes be attributed to visits made by one relative to another relative living in the U.S. or abroad. When this occurs, the family member's residence address should typically be submitted to the U.S. government to fill in the missing information in their address history.
Getting rid of overlaps, The applicant must ensure that each address has distinct beginning and ending dates that do not overlap with those at other addresses. For instance, the applicant had likely relocated before their prior lease ended. The start date for a new address must be February 1, 2020, not January 20, 2020, unless the applicant can logically justify the overlap in writing. For instance, if one lease ended on January 31, 2020, but the applicant's change-of-address records indicate they began receiving mail at a new address on January 20, 2020, the start date for that new address must be February 1, 2020, not January 20.
Our Love Visa has streamlined all the necessary government forms and requirements into easy questions that you can complete online, usually in less than an hour, and provides free tools that can help plan and track your application progress. Find out more and start your U.S. immigration process today.
Immigration support is available at an affordable price. The best part, you can use our tools and features for free, whether or not you choose to use the paid form function or work with someone from our independent attorney network. Our Dashboard has a personalized planning tool and relationship timeline to help you organize and strengthen your immigration application. We also have a tracking tool that securely pulls your immigration case status updates from the USCIS website.
Our Love Visa exists because we believe bringing our loved ones home should not be expensive or complicated. Learn about what you get with our attorney-designed platform.