K1 Visa Costs: A Step-by-Step Break Down
If you are considering applying for a K1 visa, you may ask yourself, "how much does a K1 visa cost?" It's a process that can be complicated and expensive, so in this blog post, we discuss how much it costs to get a K1 visa and some of the other expenses you can expect to incur during the process. Let's dive in!
The Our Love Visa Experience
Our Love Visa has a simple mission. We believe it should not be difficult or expensive to bring couples together. OLV has helped thousands of couples navigate the immigration process, and it would be a privilege to help you too. Join the OLV Community today!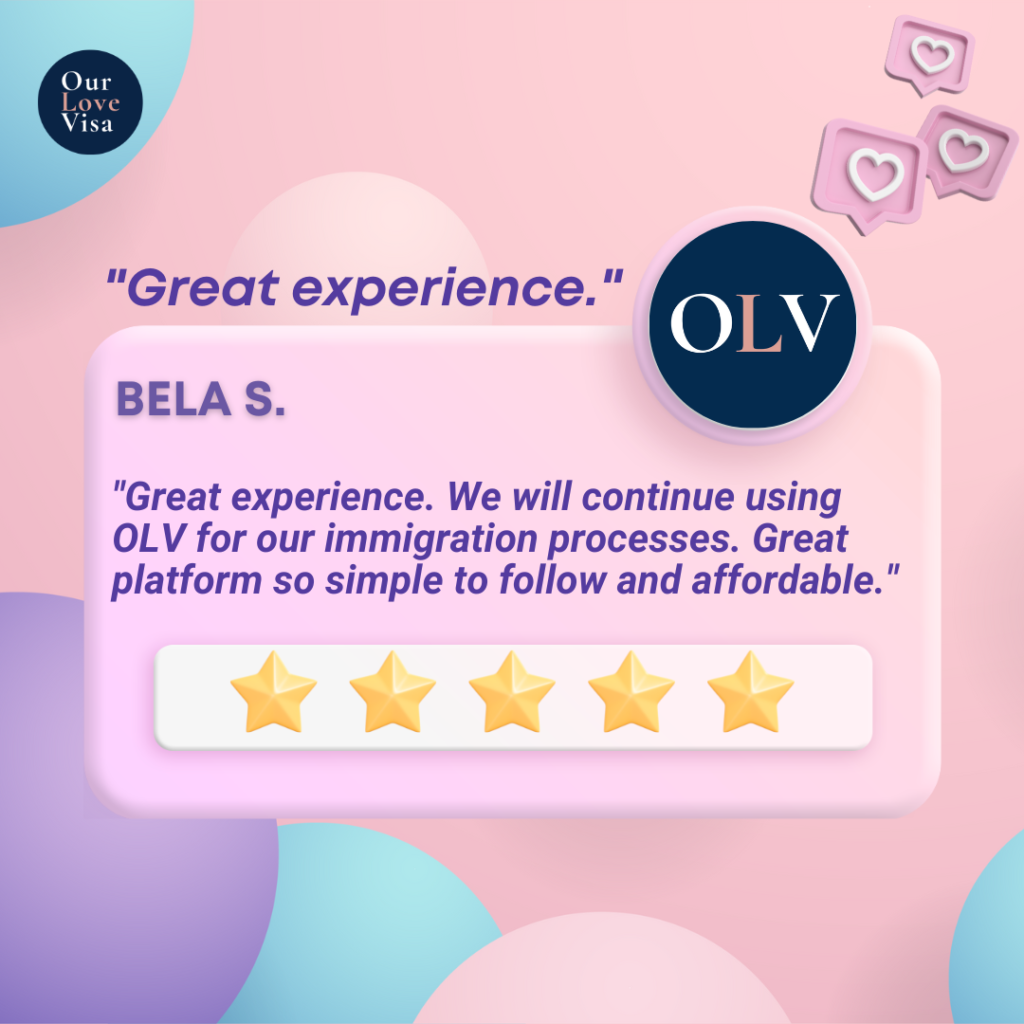 How Much Does a K1 Visa Cost?
In total, the cost of getting a K1 Visa is about $1,000. The government filing fees for a K1 visa amount to $800, and the required medical examination costs on average $200. The fees for the K1 visa plus the subsequent Adjustment of Status to later transfer from a K1 visa to a green card amounts to $2,025. These are just the government fees, they do not include other costs, which we will break down below.
In the following section, we will cover the mandatory K1 visa fees and other potential costs you may incur.
Mandatory Fees
The following K1 visa fees are listed in the order in which you'll need to pay them, and they are required for all applicants.
Petition for Alien Fiancé(e) (Form I-129F): $535
U.S. State Department processing (Form DS-160): $265
Medical examination: *Cost varies
Adjustment of Status (Form I-485): $1,140
Biometrics for Form I-485: $85
* Medical examinations can range in cost from $100 to $500, depending on the provider. They tend to average around $200.
Not sure if you qualify for a K1 visa? Create a free Our Love Visa account and check your eligibility today!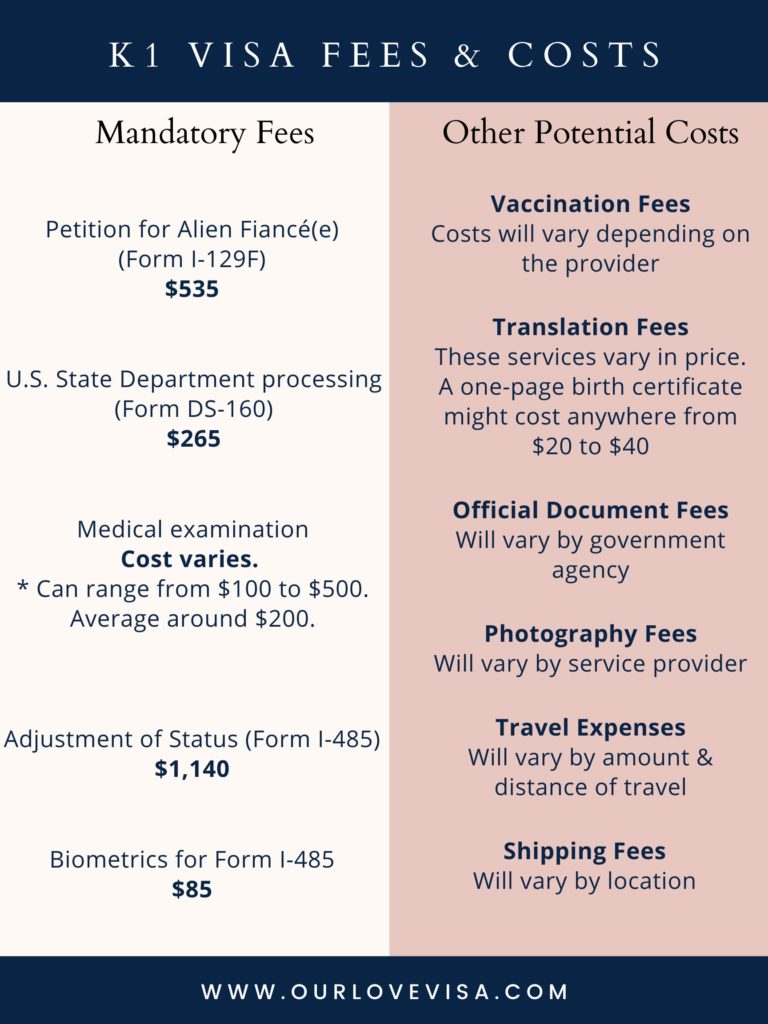 Other Potential Costs
There are other costs to consider in addition to basic government fees and the medical examination fee. Let's dive into those.
Vaccination Fees:
If your medical examination requires it, you may need to update your vaccines before receiving your completed medical examination report. Vaccination costs will vary depending on the provider.
Translation Fees:
If the K1 visa application package you submit contains any documents in a language other than English, you must also provide a translation of each document, which must be certified as correct by a translator. These services will vary in price. A one-page birth certificate might cost anywhere from $20 to $40.
Official Document Fees:
During the K1 visa process, you will be required to submit digital or physical copies of supporting documents, such as a birth certificate and passport. When it comes time for your K1 visa interview, you'll also need to bring the original versions of these documents. Government agencies typically charge fees for official documents.
Photography Fees:
The U.S. government will require that you submit two recent 2-inch-by-2-inch photos for identity and background checks. These will differ in price by service provider. Although you can take your own pictures, using a professional is usually a good idea.
Travel Expenses:
You will need to cover the costs of any travel expenses to get to your medical examination or interview at the U.S. embassy or consulate. If you need to travel to a government agency to get official documents, you must also cover those costs.
Shipping Fees:
You must pay for the postage and mailing of your application and supporting documents at various stages of the K1 visa process.
Not sure if you qualify for a K-visa? Check your eligibility today with Our Love Visa! We're here to help you every step of the way, from beginning to end. And it's free to create an account! Get started now.