Reasons for Green Card Denial
Reasons My Green Card Would be Denied
Even though a marriage-based green card application may seem straightforward and there are no immediate red flags, many applicants still feel overwhelmed by the high stakes involved. It's common for applicants to lose sleep as they worry about all the reasons why their application might be denied.
It is important to remember that the U.S. Citizenship and Immigration Services (USCIS) has the same goal as you and your spouse – to ensure that eligible couples with genuine marriages can live together in the United States. Therefore, while it's natural to feel anxious, you can take comfort in knowing that the USCIS is on your side and working towards your goal.
Although marriage-based green card applications have a relatively high approval rate, they can still be denied. There are several common problems that applicants may encounter, and it's essential to avoid them.
The Our Love Visa Experience
Our Love Visa has a simple mission. We believe it should not be difficult or expensive to bring couples together. OLV has helped thousands of couples navigate the immigration process, and it would be a privilege to help you too. Join the OLV Community today!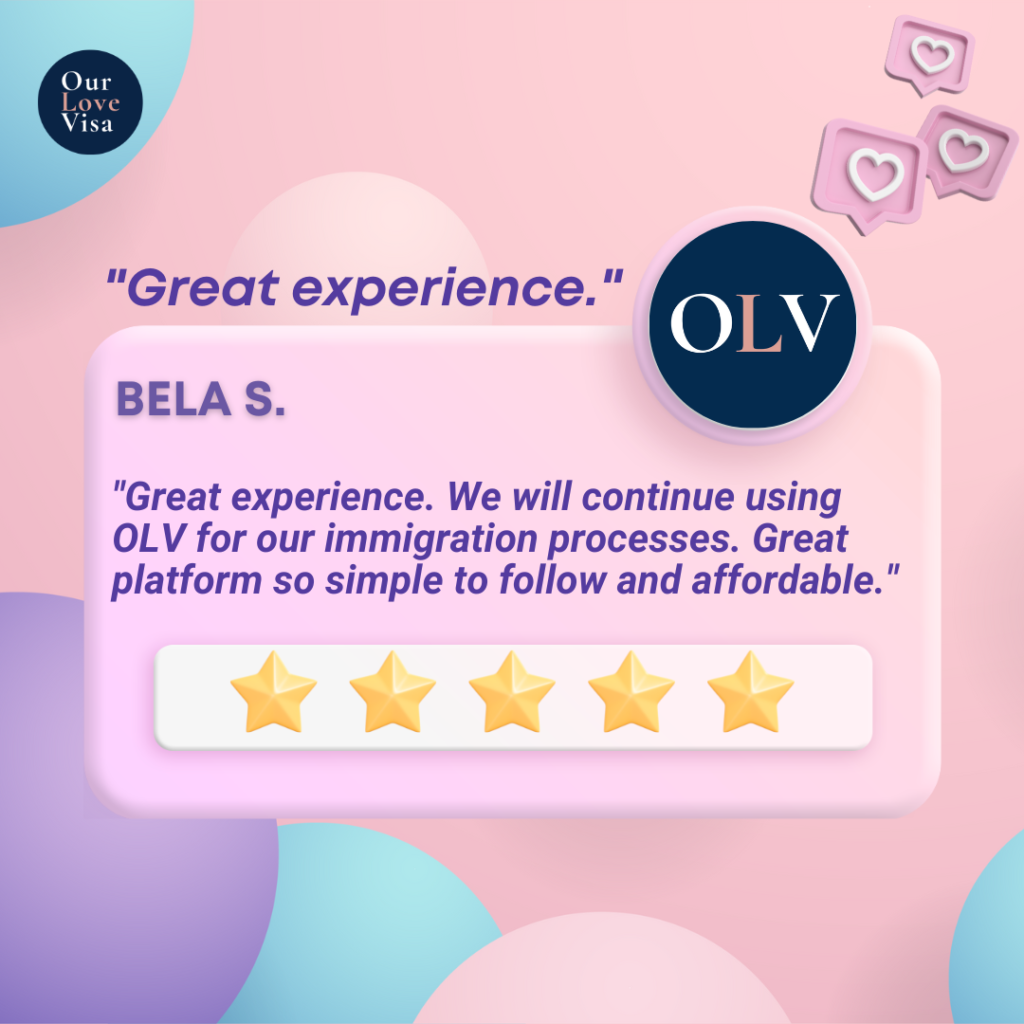 Unable to prove an Authentic Marriage
The success of your green card application hinges on proving that you and your spouse have a legally recognized and authentic marriage. This marital relationship forms the foundation of your eligibility for a green card, and as such, it's crucial to provide strong documentation to support your claim.
First, you must prove that you have a valid, legally recognized marriage. While in straightforward cases USCIS may only require a copy of your marriage certificate, there are many situations where this can become more complicated. For instance, your marriage must be legally recognized in the country where you were married and you must prove that any previous marriages ended before your current marriage started. This requires providing either divorce certificates or death certificates for any previous spouses.
Unfortunately, many applicants need help proving their marriage is legally valid. For example, if one spouse's divorce didn't become final until after you were married, USCIS may question the legitimacy of your current marriage. If you are a same-sex couple who got married in a country that does not recognize same-sex marriages, USCIS may also pose questions.
Another issue could arise if your marriage wasn't legally recognized in the country where you got married. For example, if the country has a prohibition against interfaith marriages.
Once you've established the legal validity of your marriage, the next step is to prove its authenticity. This may include financial documents, photos from trips together, and birth certificates of any children you may have. USCIS officers are trained to detect marriages entered solely to obtain a green card, so providing compelling evidence of your relationship and life together is essential.
Proving your marriage's legal validity and authenticity is the most critical aspect of your green card application. Therefore, it's crucial to provide strong documentation to support your claim and avoid any complications that could arise in the process.
Simple Errors on the Green Card Application
Green card application denials are often the result of simple errors that could have been avoided with careful review and attention to detail. Ensuring all your application materials are complete, accurate, and meet USCIS requirements is essential.
Common Mistakes Leading to Denial or Rejection Include:
Failure to provide translations: Any documents in a non-English language, such as birth certificates and marriage certificates, must be translated word-for-word into English. The translation and the non-English version should be included in your application package, and the translations must be certified. This means that the translator must certify in writing that they have accurately translated the document, including their name, address, signature, and completion date.
Missing information in the forms: Fill out the green card application forms completely and accurately. If a question doesn't apply to you or your spouse, write "N/A" (meaning "not applicable") to indicate that.
Incorrect Photos: The green card application package requires passport-style photos that meet government requirements. You can usually take these photos at most drug stores, but it's essential to ensure that they meet USCIS specifications.
Fees not paid in full: costs for a marriage-based green card vary depending on the situation, ranging from $1200 to $1760. Check the current list of all USCIS fees and include the correct fees in your application.
Missing signatures: Ensure you and your spouse have signed all the required signature lines. USCIS only accepts original ("wet ink") signatures.
These are just some of the common errors that applicants make on their green card applications, and they can result in a denial or delay in processing. To increase your chances of success, review your application materials carefully, double-check all information, and ensure that all USCIS requirements are met.
Unable to Meet Financial Requirements
To obtain a marriage-based green card, the sponsoring U.S. citizen or green card holder must demonstrate sufficient financial resources to support their spouse. The sponsoring spouse is generally required to earn at least 125% of the Federal Poverty Level, which is established by providing copies of federal income tax returns or recent pay stubs. However, there are alternatives to meet these financial requirements, such as:
Income from household members of the sponsoring spouse
Assets in place of income
Financial co-sponsorship by a family member or friend (joint sponsor)
It's important to note that the financial resources must be sufficient to support both the sponsoring spouse and their spouse seeking the green card. See the links in this article for more information on these income requirements for a marriage-based green card.
You may not be eligible to apply for a Marriage-Based green card from within the United States.
Not all marriages to a U.S. citizen or green card holder automatically qualify for a green card application from within the United States.
If you entered the U.S. as a tourist and applied for a green card within 90 days of arrival, your application may only be allowed if you can prove that you did not intend to apply for a green card when you entered the country.
If you entered the U.S. illegally, you cannot apply for a green card from within the U.S. Instead, you must apply for a provisional unlawful presence waiver and then apply for a green card at a U.S. embassy or consulate in your home country.
If you entered the U.S. on a J-1 exchange visitor visa, you might be required to return to your home country for two years after your J-1 status expires unless you obtain a waiver.
If you entered the U.S. on a C-1/D "crewman visa," you cannot apply for a green card from within the U.S.
If you are in removal proceedings, in most cases you cannot apply for a green card from within the U.S.
If you entered the U.S. on a K-1 fiancé(e) visa but did not marry that person, you generally cannot apply for a marriage-based green card on that entry.
Understanding these eligibility requirements is important before beginning the green card application process.
A person may not be eligible for a Marriage-Based Green Card at all.
Certain circumstances could make you or your spouse automatically ineligible to obtain a green card. These situations are as follows:
Certain criminal records: Though not all types of criminal records would render you or your spouse ineligible to apply for a green card, it also depends on whether you're a green card sponsor or seeker.
Certain medical issues: If your immigrating spouse has a communicable disease, mental illness, or history of drug abuse, it could make them ineligible for a green card. For more information, check out our article on the green card medical exam.
Lies and misrepresentations: Dishonesty or misrepresentations to immigration officials are considered fraud, which could hinder you from obtaining a green card.
However, even if you or your spouse are deemed ineligible for a marriage-based green card due to a criminal record, medical issue, or prior immigration fraud, there might be an opportunity to qualify for a "waiver of inadmissibility." Usually, USCIS will only approve such a waiver when provided with evidence that a U.S. citizen or green card holder spouse would face "extreme hardship" if their spouse couldn't reside in the United States. This is an extremely hard standard to satisfy. Therefore it is always recommended that you educate yourself on the rules and requirements and follow them.