How to get married to a Filipino/Filipina in the Philippines to get a Spouse CR-1 Visa
The Spouse CR-1 Visa, also known as the Conditional Resident Spouse Visa, is a type of immigrant visa that allows a foreign national to come to the United States to live with their U.S. citizen spouse. It is a two-year conditional visa granted to foreign nationals married to U.S. citizens but married for less than two years.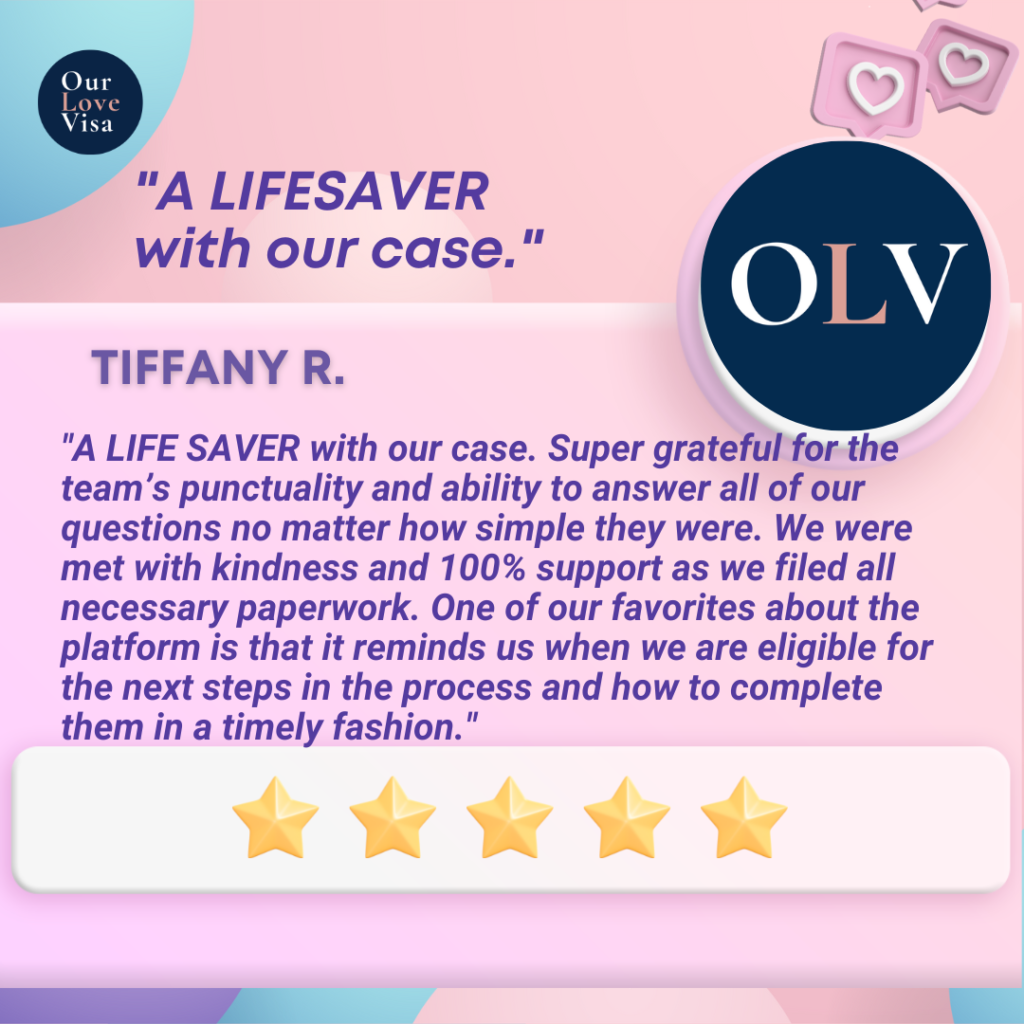 The Our Love Visa Experience
Our Love Visa has a simple mission. We believe it should not be difficult or expensive to bring couples together. OLV has helped thousands of couples navigate the immigration process, and it would be a privilege to help you too. Join the OLV Community today!
For a Filipino/Filipina to be eligible for a Spouse CR-1 Visa, they must be married to a U.S. citizen, and the marriage must be legally recognized in the United States. You must also demonstrate that you have a bona fide intention to live with your spouse in the United States and have a genuine marital relationship.
When the Filipino/Filipina Spouse's CR-1 Visa is granted, they will be allowed to enter the United States as a conditional resident and be issued a two-year green card. After two years, you will need to apply to have the conditions removed from your green card in order to become a permanent resident, called Adjustment of Status.
For a U.S. citizen planning to marry a Filipino/Filipina and you are planning to get married in the Philippines, you will need to follow the same general steps as any other couple getting married in the Philippines. However, there are a few additional things you should keep in mind:
Determine your eligibility: In the Philippines, both parties must be at least 18 years old and must not be married to anyone else at the time of the wedding. If either party has been married before, they must provide proof of the dissolution of the previous marriage, such as a divorce decree or a death certificate.
Obtain a marriage license: You will need to apply for a marriage license at the local civil registry office (Local Civil Registrar) in the city or municipality where you plan to get married. You will need to provide proof of your identity, such as a passport or a birth certificate, and pay a fee.
Attend a pre-marriage counseling session: The Philippine government requires all couples to attend a pre-marriage counseling session before getting married. This session is usually conducted by a local church or a licensed marriage counselor.
Choose a wedding ceremony: You can choose to have a civil wedding, which is performed by a government official, or a religious wedding, which is performed by a religious leader.
Have the wedding ceremony: Once you have obtained a marriage license and attended a pre-marriage counseling session, you can proceed with the wedding ceremony.
Register the marriage: After the wedding ceremony, you will need to register your marriage with the local civil registry office. This will involve submitting a copy of your marriage certificate and paying a fee.
Apply for a Spouse Visa: Once you are married, you can begin the process of applying for a Spouse Visa, also known as a Marriage-Based Green Card, to allow you to live and work in the United States. You will need to complete Form I-130, the Petition for Alien Relative, and then eventually Form I-485, the Application to Register Permanent Residence or Adjust Status. You will also need to pay the application fee and gather supporting documents, such as proof of your marriage and your spouse's U.S. citizenship, proof of your relationship, and evidence of your eligibility for a green card.
—
Are you and your partner trying to navigate the complicated world of immigration visas? Our Love Visa is here to help! Our platform was created specifically to assist couples like you in completing the necessary forms and gathering the required documents for a successful visa application. Our team of experienced professionals is dedicated to making the process as smooth and stress-free as possible. Our user-friendly platform makes it easy to track your progress and stay on top of important deadlines. Don't struggle through the visa process alone – try Our Love Visa today and start building your future together in the United States!