K1 Fiancé(e) (I-129F) Visa Processing Time, November, 2022
A K1 Fiancé(e) (I-129F) is a powerful option that allows U.S. citizens to bring their fiancé to the United States. Through the K1 visa, someone can come to the United States, marry their U.S. citizen fiancé, and apply for their green card without leaving the U.S. The K1 fiancé visa processing time can vary month to month.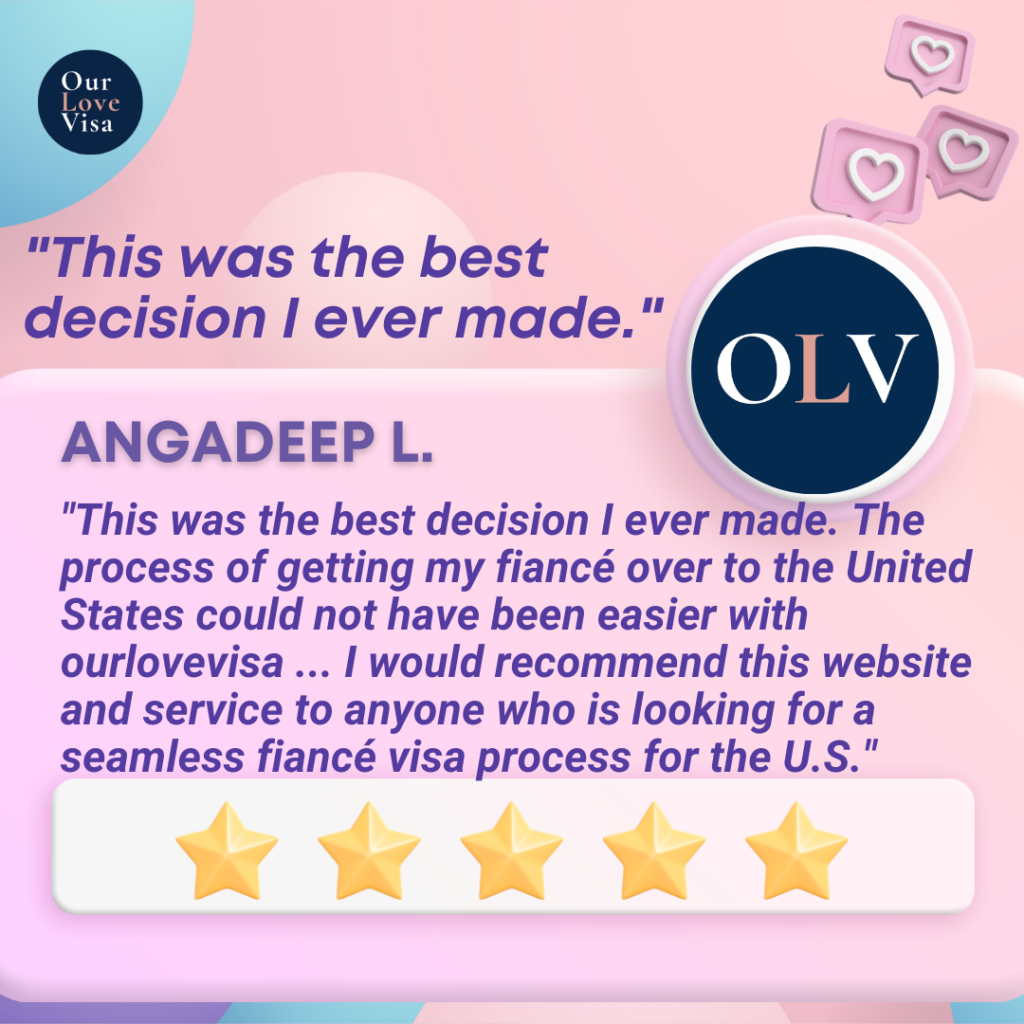 The Our Love Visa Experience
Our Love Visa has a simple mission. We believe it should not be difficult or expensive to bring couples together. OLV has helped thousands of couples navigate the immigration process, and it would be a privilege to help you too. Join the OLV Community today!
USCIS Case Processing Times
USCIS has a portal that displays case processing times for selected forms and locations so you can see how long it typically takes to process a claim and when to contact us with questions about your case. They update the case processing times on the website monthly with the latest available data.
All of the time from receipt to completion is included in the K1 fiancé visa processing times. This includes the time needed to submit biometrics, answer requests for more information from applicants, petitioners, or requestors, and reschedule interviews.
What does this processing time mean?
USCIS typically handles cases in the order in which they are received. This processing time is determined by how long it took them to finish eighty percent of the cases that were adjudicated in the previous six months. Since every situation is different, some may take longer to resolve than others. Processing times should only be used as a guideline and not as a strict gauge of how long it will take to resolve your case.
Checking K1 Fiancé visa case processing times by center
As of November 2022 the following processing time for Petition for Alien Fiancé(e) (I-129F)
USCIS California Service Center – 15 Months
Immigration & naturalization service in Laguna Niguel, California
Located in: Chet Holifield Federal Building
Address: 24000 Avila Rd, Laguna Niguel, CA 92677
Phone: (800) 375-5283
USCIS Nebraska Service Center – 3.5 Months
Immigration & naturalization service in Lincoln, Nebraska
Address: 850 S St, Lincoln, NE 68508
Phone: (800) 375-5283
USCIS Potomac Service Center – 8 Months
Immigration & naturalization service in Arlington, Virginia
Located in: Crystal City Shops
Address: 2200 Crystal Dr, Arlington, VA 22202
Phone: (800) 375-5283
USCIS Texas Service Center – 15 Months
Immigration & naturalization service in Irving, Texas
Address: 6046 N Belt Line Rd, Irving, TX 75038
Phone: (800) 375-5283
USCIS Vermont Service Center – 22 Months
Federal government office in Essex, Vermont
Address: 38 River Rd, Essex Junction, VT 05452
Phone: (800) 375-5283
This page on the USCIS website allows applicants to view the estimated time from filing the USCIS form to completion based on the location of the decision.
To locate your form, category, and office, refer to your receipt notification. Visit the USCIS Case Processing Times page for more details on case processing times and how to view your receipt notice.
How to contact USCIS if you have issues with their website
You cant contact the USCIS webmaster at [email protected].
It's free to sign up to Our Love Visa to receive monthly Fiancé Visa process time updates. We also make it easy for you to save your case number and check your status with one click!